IMTTS laser simulation puts a range in your living room
The IMTTS has two major components — one or more intelligent target bases and either a laser training pistol, or a compatible laser cartridge
---
There is no such thing as too much practice, but in honesty, how often do you get to the range? How often do you work on a range where you can draw from holster, get off the X, shoot on the move, shoot from concealment, take multiple shots at different distances, and practice shoot-don't-shoot drills? Is most of your range time spent on the seven yard line during qualifications?
And what about the reasons people often give? Is it too hot in summer, too cold in winter? Not enough hours in the day? I'll bet that your living room is the right temperature every day of the year, and you probably have some downtime there. 
With the IMTTS — or Interactive Multi-Target Training System from Laser Ammo — you can put an excellent simulator in that living room of yours.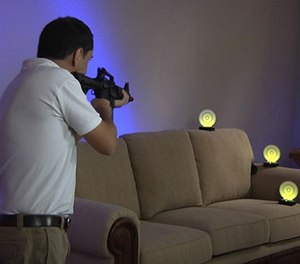 Airsoft and a laser: Home on the range
The IMTTS has two major components — one or more intelligent target bases and either a Laser Ammo laser training pistol, or a compatible laser cartridge. The target bases can be used singly or in groups of up to 10 and each has four interchangeable target styles in sizes of three to five inches, which look just like the targets you probably use at the range. The target bases communicate with each other and can be used in five different modes: stand-alone, steel-plate, chase the ball, shoot/no-shoot, and double-speed shoot/no-shoot.
The laser cartridge can be used in your issue, back up, or off-duty firearm, but better yet, it can be used in an airsoft pistol with an adapter.
When the Laser Ammo Recoil Enabled AirSoft Laser (R.E.A.L.) Conversion Kit is combined with the Glock-like KWA ATP Adaptive Training GBB Airsoft Pistol, you have a system which is so close to being on the range you can almost smell the gunpowder.
While the instructions state that the installation of the R.E.A.L. barrel might void your warranty, the benefits are worth it to me. Using green gas as a propellant, the ATP slide actually blows back with every shot. And since you are shooting a laser instead of pellets, the gun is safe to use just about anywhere in your house.
As with any firearm, the KWA ATP/laser combo should always be handled as if it were loaded. Your practice room should be sealed off and everyone should be behind the firing line. Not only does this teach you good discipline, it could save a life if somehow a real firearm is picked up instead of the sim gun.
Practice mag changes
The ATP magazine runs out of gas after around 20 shots (just like real life) and I recommend getting another couple of them so that you can practice mag changes in addition to your target skills. Shoot/no-shoot with mag changes while on the move is a favorite skill for me to practice.
The big benefit of buying either their sim pistol or the R.E.A.L./ATP combo is that you don't need to cycle your pistol after every shot — a habit which could get you killed in a real firefight. If you have a revolver, they sell a multi-cartridge kit so that you can continue pulling the trigger to take shots.
Some caveats
It took me a while to figure out how to get everything up and running, so I want to share my experience with you. Consider the following: 
The IMTTS bases only work with a modulated laser and at this writing are only compatible with Laser-Ammo's lasers. They are talking to the other laser pistol manufacturers but I have no news on that front.
To take repeat shots with the ATP, you need to lock the airsoft pellet loading lever on the mags in the down position. If you don't do this, the slide will lock open with every shot.
Conclusion
For a few hundred dollars, the Laser Ammo IMTTS will enable you to practice any time you like in the comfort of your own home and get your whole family involved. It's a safe way to practice your own skills and help your family to stay safe when you cannot be with them by training them to shoot under close-to-real conditions.

Request product info from top Police Firearm Accessories companies
Thank You!