Mini mag sleeve, belt slider among new offerings from Sticky Holsters
Former police officer/trainer Mike Christoff is the face behind Sticky Holsters, which manufactures dozens of holsters for just about every handgun
---
Most Police1.com readers know I'm a frequent shooter at the Mobile Tactics Range in Naples, Florida, which is owned and operated by former police officer/trainer Mike Christoff.
I've done some CCW classes there and occasionally find myself at his place when the need arises to break in a new gun or just blow off a few boxes of ammo. One such occasion presented itself a few weeks ago.
Readers may also know Mike is the CEO of Sticky Holsters, Inc., a manufacturer of dozens of holsters for just about every handgun from Beretta to Walther, as well as holsters for TASERs, cell phones and wallets.
I recently became the proud owner of a G43 and, at around the same time, my buddy won a G42 at a local Florida shoot. We both decided to spend a few bucks on one of Sticky's newest items – the Mini Mag Sleeve – along with a couple of Belt Sliders for extra mags.
Mike and his staff at Sticky have been busy. Here are some of their latest items: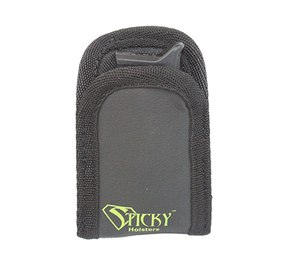 The Mini Mag Sleeve
While the Mini Mag Sleeve was designed with the .380 caliber Glock 42 or the 9mm Glock 43 in mind, it will work with most slimline single stack minis, the S&W M&P Shield, the Walther PPS and the Ruger LC9s.
The Mini Mag Sleeve uses the same proprietary material developed by Mike to keep this ultra-slim, single stack mag pouch securely inside the waistband (IWB) in an upright manner, or in your pocket, keeping your mag separate from keys, coins and lint.
With the limited magazine capacity of these single stack mini guns, this is a must for those who feel the need for an extra mag on their person.
The Mini Mag Sleeve is also available in a dual fashion for those wishing to carry two extra mini mags.
The Belt Slider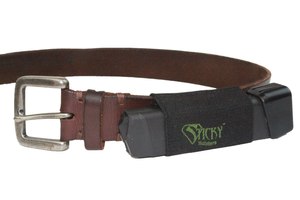 This item, which slides onto your belt, allows you to securely carry a single stack mini mag (or knife or tourniquet) in a horizontal fashion.
For those who desire to keep that mag fully concealed, you simply need to reverse the slider to the inside of the belt where it fits between the belt and the body. That technique hides the Sticky logo from view, too.
Training tip: Reversing the Belt Slider makes it a little more difficult to access the spare mag in the event a reload is quickly needed. When the mag is fully concealed behind the belt against the body, those of us with a little more padding between the belt and the body may have difficulty accessing the spare mag.
For those wishing to double up on the number of mags, the Belt Slider is available in dual mag configurations. Simply order the items with the x2 designator.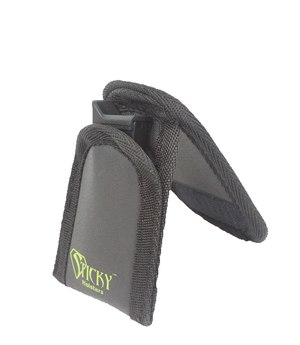 The Mini Mag Pouch
For officers who wish to carry their mini mags in an exterior fashion, there's the Mini Mag Pouch. This item, also available in a two mag version, permits officers to carry their slimline mags in an OWB fashion. There's also a slot for your police business cards behind the pouch in both the single and dual versions.
By the way, both single and dual versions of the Mini Mag Pouch are available in full-size mag versions; just designate Super Mag Pouch in single or dual versions.
Sticky Hybrid Holster Pad
Finally, the creative minds there at Sticky Holsters have developed a Sticky Hybrid Holster Pad.
With the proliferation of hybrid holsters, Mike knew from his research and frequent law enforcement feedback that there was something missing with most of the IWB hybrid holsters out there; they just weren't comfortable for long periods of wear with complaints like, "They dug into my hip" or "They sagged after a few hours of wear."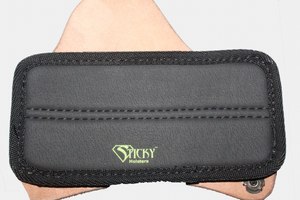 By marrying his proprietary sticky material with some hook and loop adhesive backing, Mike designed an item that solves that problem.
This is the perfect cure for those officers using an IWB paddle-type hybrid holster. Now owners of Alien Gear, CrossBreed and DeSantis holsters, to name a few, have an item that will make their duty carry time a little more comfortable. The Sticky Hybrid Holster Pad alleviates slip and provides cushion to any hybrid holster. It works with all brands in both leather and/or synthetic versions.I could spend hours exploring the Sticky Holsters' website for neat items for my Christmas or birthday wish list (caps, patches and Ts for men and women) and I encourage all P1 readers to check it out.
As usual, everything is manufactured at Sticky Holsters from U.S.-made materials and carries a lifetime craftsmanship warranty. Contact info@stickyholsters.com for any questions.  

Request product info from top Police Firearm Accessories companies
Thank You!