SHOT Show 2011: BLACKHAWK! adds to its line of AR-15 Picatinny rail covers
---
With the advent of all manner of accessories designed to dangle off the rails of an AR-15, this ubiquitous law enforcement long gun has in recent years become known as "the grown man's Barbie Doll." Deservedly so, in many cases, because outside of adding a high-quality optic, a good tactical light, and a forend grip, there's little use for some of the things we see hitting the market.
While a lot of AR accessories do nothing more than add unnecessary weight to the system, there definitely are some very useful accessories to consider having.
As John Farnam so accurately puts it in this Police1 tactical tip, "Top, side, and bottom Picatinny forend-rails provide a genuinely secure platform for mounting optics, weaponlights, and lasers, the three most applicative accessories for serious rifles."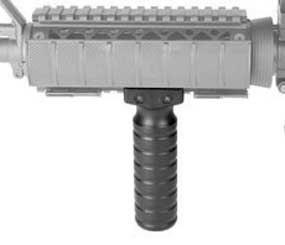 I'd add a forend grip to John's list, but his point here is well-taken. If you've got the rifle set up with the minimum of "stuff" hanging off the front end of it, you probably also have a good lot of exposed Picatinny rail, which can not only scuff your hands, but can cause your rifle to catch on your clothing at the worst possible moment in time.
Solution: rail covers. BLACKHAWK! has announced a handful of quality rail covers that deserve a couple moments of our attention. The company sent out a press release that shows two different solutions (there are several sizes of each, but we're looking at just these five), each addressing a slightly different set of needs. Here's some of what that press document had to say:
BLACKHAWK! Low-Profile Rail Covers
The smallest of the line is a five-slot, ladder-style cover constructed of Santoprene, which is sufficiently sticky for a good grip, and includes an integral wire loom to secure electrical wires for remote pressure switches to lights and lasers. The 18-slot, ladder-style cover is pretty much exactly the same (made of Santoprene) but for the fact that it offers enough length so you can cut to size exactly what you need for your custom setup. The full-length option offer a low-profile grip surface for weapon control, and clip on the rail without removing other attachments. They can also be easily cut to size as desired. All are available in Black, Dark Earth or Olive Drab colors. 

Short, Medium, and Long Locking Rail Panels
Made of a tough, ridged polymer and using the patented Rail-Lok™ integral locking mechanism to keep them securely in place, the "short" version of these covers are sold in sets of two, with each panel covering a little more than one and a half inches of rail. The "medium" version covers about three and a quarter inches of rail, and the "long" version covers just under six and a half inches of rail. Each version is available in Black, Dark Earth or Olive Drab colors.
As mentioned above, I happen to like the addition of a good forend grip for added weapon control, so I'd be remiss if I failed to mention that included in its SHOT Show press release, BLACKHAWK! also announced new rail-mount vertical grip. According to the company document, it is molded of "high-performance fiberglass-reinforced polymer," and comes with two different caps to you can customize the length of the grip. It also has a storage compartment for tools, batteries, or spare parts, but I'm not a fan of having stuff rattle around in a compartment at the front of the system.

Request product info from top Police Firearm Accessories companies
Thank You!