SHOT Show 2017: The MagPump Ultralight AR-15 magazine loader is a winner
Made mostly of polymer, the MagPump loads 30 rounds in 30 seconds
---
I got a chance to see a MagPump Ultralight AR-15 magazine loader at SHOT Show 2017. Although I have seen similar products on the market, this one is a true winner.
While we were testing the Springfield Armory Saint, a new AR-15 product that earned my respect, the range guy was handing us fully-loaded magazines.  We, in turn, would empty these magazines by moving the projectiles loaded inside them from one end of the range to another, thus emptying the magazines.
I can empty magazines pretty quickly. The guy on the Springfield range was keeping up with the demand. He was dumping loaded cartridges into a hopper, and the machine was orienting the cartridges correctly and pumping them into a magazine attached to the machine.  That machine was MagPump loader.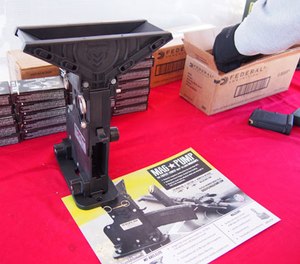 Made mostly of polymer, the MagPump loads 30 rounds in 30 seconds.  Users can dump up to 60 rounds into it at a time.  This model will work for .300 Blackout also.
The MagPump quickly breaks down and can fit into a .50 caliber ammo can. It also can be mounted on a Picatinny rail.  It's the kind of product that could benefit any agency. I believe I will purchase one of these for my personal use.
One important note: The MagPump has export restrictions because it is a Defense Article on the US Munitions List.
MSRP is $189.

Request product info from top Police Firearm Accessories companies
Thank You!