Sly Tactical offers a better way to sling a rifle
A former police officer set out to design an effective rifle sling after some of his gear failed on patrol
---
We all know someone who can't leave well enough alone, or someone who is always looking for a way to "build a better mousetrap." That describes Kevin McCarthy pretty well, and it's what he has done with Sly Tactical. He has combined an engineer's design prowess with a police officer's experience to make simple and effective slings that are highly ergonomic and efficiently designed.
McCarthy is a retired police officer with experience in patrol, a street crime and warrant service unit, as well as operating on a tactical team. After some of his gear failed in these operational environments, he set out to find a better way to sling a rifle. One result of his efforts is the Sly Tactical Quick Conversion Sling.
Sly Tactical sent me one of its Quick Conversion Slings in OD green and included the unique and highly functional Thumb Tab. This sling is well-made and durable. It's well-thought out using Made in the USA materials and includes strong mil-spec Class 1 1-inch nylon webbing. The stitching is uniform using mil-spec thread, and all the aluminum hardware is hard anodized for durability.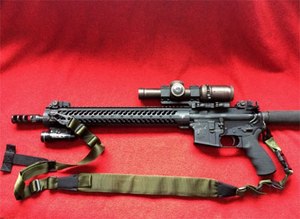 Easy conversion from one-point to two-point system
On the range and on duty, this sling demonstrates it is a cut above the rest. The innovative Quick Conversion Sling allows the user to run the sling as a one-point or two-point system. This makes for a flexible system capable of going from shoulder to shoulder with ease then quickly converting to a secure two-point sling that frees up both hands.
Sly Tactical made this possible by using a thumb tab on the front sling snap where it connects to the sling mount and a single-point buckle near the buttstock. When converting from a two-point to a one-point sling, the user's thumb runs along the front sling snap and can quickly disconnect the front of the sling from the rifle. Then, the front sling mount is attached to the single-point buckle near the buttstock. This process only takes a couple of seconds and is easily performed on the range or street. This is a simple and effective solution.
Sling tension adjustment is a breeze
The best thing about the Sly Tactical Sling is the tension and slack adjustment. A lot of slings on the market feature a system for adjusting sling tension; however, while wearing body armor, the adjustment feature seems to always hide under your arm making it difficult to find in a hurry. The Sly Tactical Sling features a "T" handle adjustment quick and easy to locate. Instead of hiding under your body armor and under your arm, the "T" handle is designed to adjust sling tension from the front of the sling. No matter your position, the "T" handle is located in the same place every time.
Rear sling mount is great addition
Another great product is the rear sling mount, which along with a Quick Conversion Sling, is a great addition to any rifle. The rear sling mount is unique in that you don't have to take anything apart to use it. To install it, all you need to know is how to tighten a screw. The mount clamps securely around the outside of the buffer tube without putting pressure on the buffer itself.
The company has several good videos showing how quick and easy the slings can be changed from one configuration to another. Sly Tactical has certainly built several better mousetraps, and the company stands behind its products with a lifetime warranty.

Request product info from top Police Firearm Accessories companies
Thank You!