SHOT Show 2011: Leupold Mark 4 HAMR telescopic sight
As great for 3-gun competitions as it is for close-quarters-combat scenarios
---
Leupold plans on expanding its share of the tactical optics market with the newly introduced Mark 4 HAMR (High-Accuracy Multi-Range) telescopic sight. The sight, a fixed power 4x24mm designed with the AR-15 platform in mind, has ballistically matched etched glass reticles that are visible with or without illumination.
The HAMR uses what Leupold calls a CM-R2 reticle that has a .5 MOA dot surrounded by a 5 MOA horseshoe. Leupold advertises that the sight is great for 3-gun competitions as much as it is for close-quarters-combat scenarios. The sight also includes has marks on the horizontal stadia for leading targets traveling at various speeds.
To make the sight even more versatile, it has a bracket on the top that allows for the mounting of a Leupold 7.5mm MOA Delta Point reflex sight.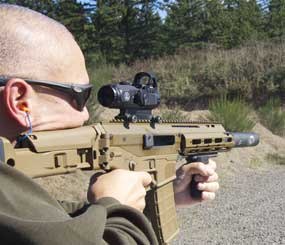 Leupold's Tracy Hermes and Greg McCain believe the new sight has several advantages over its competition, which would include Trijicon's ACOG. First, Leupold's HAMR is lighter and comes in at a slightly lower price point. Though a 4x24mm sight is already versatile and, if used properly, can be effective in CQC and at range, the addition of the Delta Point only improves its versatility.
Though distributors will play an important role in determining the costs of the sight — initial estimates are that the HAMR, without the Delta Point, will retail for somewhere between $800 and $900 dollars. With the addition of the Delta Point, the system will retail for somewhere between $1,100 and $1,300.

Request product info from top Police Sights and Scopes companies
Thank You!