Field testing Springfield Armory's DS1911 Prodigy pistols
These pistols use the traditional slide and barrel configuration of the tried-and-true 1911 and combine them with a double-column magazine
---
Springfield Armory's 1911 pistols have become a top choice of custom gunsmiths and are also popular with law enforcement officers and defensive-minded civilian purchasers.
Historically, the Springfield 1911s have been built on single-stack frames. This means that cartridges in the pistol's magazine stack one on top of the other. This makes for a thin and comfortable grip but limits ammunition capacity.
For example, single stack 1911s chambered in .45 auto often hold no more than eight rounds in the magazine. The Glock 17 uses magazines that place cartridges in a staggered or double-stack column. This yields a capacity nearly double that of the 1911.
Fortunately, Springfield Armory is now selling a line of pistols called the DS1911 Prodigy. DS stands for double stack. As the name implies, these pistols use the traditional slide and barrel configuration of the tried-and-true 1911 and combine them with a double-column magazine. This results in a handgun with a magazine capacity double that of conventional 1911 counterparts.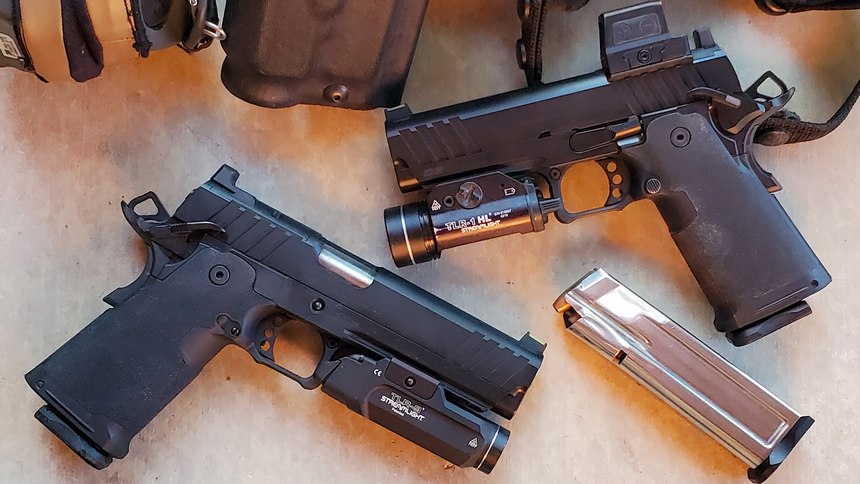 The double stack 1911 is not a new concept. It was made popular several decades ago by companies such as Para Ordnance, STI (now Staccato) and Caspian Arms. Springfield's new pistol follows the original STI format with the use of a composite frame. The section of frame that interfaces with the slide is made of steel. The grip module is plastic with a finely pebbled yet aggressive grip texture. It attaches to the steel frame section via two grip screws and a smaller screw-capped bushing in the trigger guard.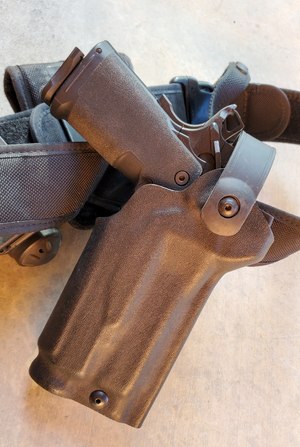 While not modular, per se, the plastic grip can be removed and replaced with one of a different color or with a more aggressive grip texture. Frames are machined to accept a weapon-mounted light. The magazine release and slide stop are on the left side of the pistol and are not reversible.
The Prodigy is outfitted with an ambidextrous thumb safety thereby, at least partially, accounting for left-handed users. Prodigy slides feature front and rear cocking serrations and a lowered and flared ejection port. Slides are "optics ready" and are machined to accept specific optic adapter plates. The slide, frame and small parts are black Cerakote. The barrel is left unfinished and in the white. This provides a traditional aesthetic. Overall fit and finish on several samples examined have been very good with a tight frame-to-slide fit and tight barrel lock-up.
Both the 4.25 and 5.0 pistols were evaluated here. The 5.0 Prodigy was tested using the iron sight plate only. The 4.25 Prodigy was tested using a Holosun HE509T-GR X2 installed on the appropriate adapter plate. Triggers on both pistols measured at a consistent four pounds when checked with a Timney pull gauge.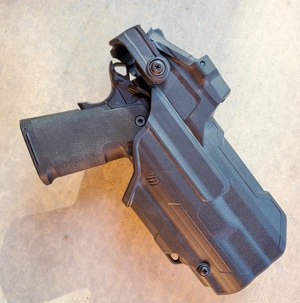 During the first 250 rounds, the 4.25" pistol did need some break-in but consumed an additional 750 rounds without incident. The 5.0 Prodigy functioned properly straight from the box. The pistols were tested using ammunition from Speer, Federal and Stand 1 Armory. Stand 1 Armory sells commercially remanufactured ammo that may prove to be a good practice option for those not restricted to factory-new ammo by policy. DuraMag and Check-Mate magazines were used in both pistols without noted issues.  
Duty holsters made for the Staccato P may or may not work with the 4.25 Prodigy. Similarly, holsters for the 5.0 model may prove even more difficult to find. Springfield Armory is selling a retention holster made by Comp-Tac Industries that may work well for police carry and should fit both barrel lengths. Another holster that fits the 4.25 and 5.0 models without issue is the Level 3 T-Series from Blackhawk. This holster's retention is based on the Surefire X300 light and both pistols latched into the Blackhawk securely with the Surefire light attached.
Standard 1911 off-duty concealable holsters made from leather may or may not fit depending on how tightly molded they are. Rest assured companies like Safariland, U.S. Duty Gear and Blackpoint Tactical are all working on options. Readers are encouraged to research holster fitment before purchasing these pistols.
Springfield Armory ships the Prodigy in a soft-sided zippered case with one 17-round and one 20-round magazine. An optics plate for the Springfield HEX Dragonfly (Shield/Docter footprint) and another plate with a Novak-style rear sight are also included with each pistol. Additional optics plates, for a variety of other optics, as well as extra magazines can be purchased from www.springfield-armory.com.
Springfield Armory DS1911 Prodigy Specifications:
Caliber: 9 mm Luger.
Capacity: 17 and 20 round magazines standard. 26 round extended magazine available.
Barrel: Heavy bull profile with integral feed ramp. 1:16" twist.
Finish: Cerakote, black.
Trigger Pull: 4.0 lbs. 
Safety: Ambidextrous with extended levers. Frame-mounted grip safety.
Weight: 4.25" 32.5 ozs.; 5.0" 33.0 ozs. 
Length: 4.25" model 7.8"; 5.0" model 8.5"
Height: 5.5" 
Retail Price: $1,499 to $1,699 depending on available options

Request product info from top Police Firearms companies
Thank You!