Product review: Smith & Wesson's M&P M2.0 Compact
Glock's Model 19 and 23 have dominated the mid-size pistol market, but Smith clearly intends to move in with this new pistol
---
Smith and Wesson recently introduced the M&P M2.0 Compact. This pistol – part of the M&P family – is a new offering not to be confused with the previous M&P Compact.
For those not familiar, the M&P (Military and Police) platform was launched over 10 years ago as Smith and Wesson's premiere law enforcement duty handgun. It uses a polymer frame and striker-fired ignition system. Outstanding ergonomics and the ability to field strip without pulling the trigger has made the M&P an icon and favorite of police officers and sportsmen alike.
M2.0 fills the gap between full-size pistol and mid-size compact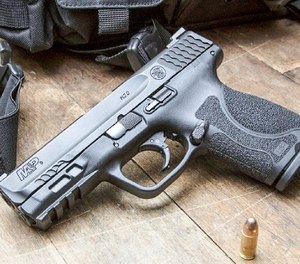 Given the M&P's success, the design had remained basically unchanged. While there have been a few slight changes along the way, an M&P made in 2006 was nearly identical to a pistol made in 2016. Despite the pistol's popularity, Smith and Wesson engineers decided a design update was due and that led to the M&P M2.0 series.
The M&P M2.0 is a slight redesign and holds true to what makes the M&P a good choice as a duty firearm. The grip texture has changed, and the trigger has been improved with a more tactile reset. The frame's steel insert has been lengthened to increase rigidity and the slide received a few cosmetic updates.
The M&P's excellent ergonomics remain unchanged and S&W designers have wisely chosen to stick with a pistol that uses existing magazines, holsters and sights so an officer (or department) looking to upgrade can use already-issued accessories.
As originally launched, the M&P was available in a large frame (45 Automatic) and a small frame (9mm Luger, 40 S&W, 357 SIG), and available in both full-size and subcompact models. One size missing from the M&P 9/40/357 line was a mid-size compact. The M2.0 Compact fills the gap between the full-size pistol meant for duty carry and the subcompact that's meant for backup use.
The value of a mid-sized gun
The mid-size pistol is not a new concept; SIG (P228 and P229) and Glock (Glock 19 and Glock 23) have been making mid-sized duty pistols for decades.
Mid-size guns offer some practical value over their full-sized brothers:
They are slightly easier to conceal;
They are easier to carry holstered (don't poke into office chairs or car seats as much);
They are slightly faster out of the holster.
On the downside, mid-size pistols have a shorter sight radius, making them more difficult to fire accurately (especially at long range), and have a lower magazine capacity.
Despite the drawbacks, the mid-size pistol can offer that combination of "just-right" size and concealability and might be a perfect choice for those wanting only one handgun for duty use, self-defense and plinking at the range.
M&P M2.0 Compact pistol specifications
The new M&P M2.0 Compact pistol is slightly larger than the original M&P Compact and is chambered in 9mm Luger or 40 S&W. It is available with or without a thumb safety.
My test pistol, in 9mm Luger, weighs 1.70 lbs. with an empty magazine and has a trigger that breaks at 5.25 lbs. The pistol ships with four interchangeable grip inserts that allow the shooter to configure the pistol based on hand size or personal preference.
Smith and Wesson's new grip texture, as first introduced on the M&P45 Shield, is aggressive, yet does not tear skin on the range or abrade clothing when carried concealed.
The pistol uses a blackened stainless steel slide and is topped with white painted three-dot sights. The barrel is 4" long and the pistol has an overall length of 7.3". Magazine capacity is 15 rounds in 9mm Luger and 13 rounds in 40 S&W.
Range performance of the M2.0 Compact
On the range the new 9mm Compact was completely reliable through 250 rounds fired in testing. Being an M&P, the pistol points naturally and easily and I had no great difficulty becoming comfortable with the gun as I worked with it. Accuracy was good with the pistol showing a strong preference for Speer's 124-gr Gold Dot hollowpoint.
Glock's Model 19 and 23 have dominated the mid-size pistol market, but Smith clearly intends to move in with this new pistol. So is it a case of better late than never or getting it right the first time? My bet is the latter and the M2.0 Compact is sure to be another success for one of America's favorite firearms makers.

Request product info from top Police Firearms companies
Thank You!