Ready for duty: A first look at Walther Arms' Performance Duty Pistol
The full-size Walther PDP is everything and more officers need in a duty weapon
---
I've served in many different roles over the course of my 22-year law enforcement career but undercover was never one of them. Something about my height, haircut (and after a while, bearing) gave off clues to anyone with decent vision. I relished the idea though – hidden tasks, keeping secrets, being solely responsible for myself – it was all appealing. So, when I got the chance to head out on a secret mission to try a new pistol, I felt that old thrill. Then I learned the manufacturer was Walther Arms.
Visions of dry martinis, PPKs and far more debonair haircuts than I could muster took shape in my mind. With the (top) secret non-disclosure agreement signed, I quietly flew to Illinois to get acquainted with an awesome new pistol called the Performance Duty Pistol (PDP).
While Q Branch instructing me would have been cool, I had something better – a cadre of top-notch instructors called Walther Defense Division.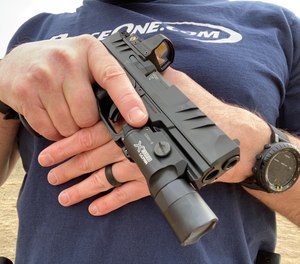 The mission
After a quick flight into Chicago, I was whisked away with some other lucky writers through the farmlands of northwest Illinois to the Black Bear Lodge and The Site, a former Blackwater Training Facility. It was amazing.
We settled in our quarters and were soon introduced to our itinerary, which was ambitious. We would be shooting from 0800 to 2300 each day with breaks for meals.
The best part was we were going to be training under some high-level instructors who are at the top of their game. These folks were going to put us through our paces using the new pistols provided by Walther.
Introducing the Performance Duty Pistol (PDP)
Walther's big rollout was the Performance Duty Pistol, a 9mm, semi-auto duty weapon that uses a lot of modern features folks in our line of work like to see.
The striker-fired weapon comes in two iterations, a full size (4.5" 18+1 capacity), and a compact (4" 15+1 capacity). Both are polymer/steel combos with accessory rails, no external safety and red-dot ready. I liked what I saw until I put my hands on them, then I loved them.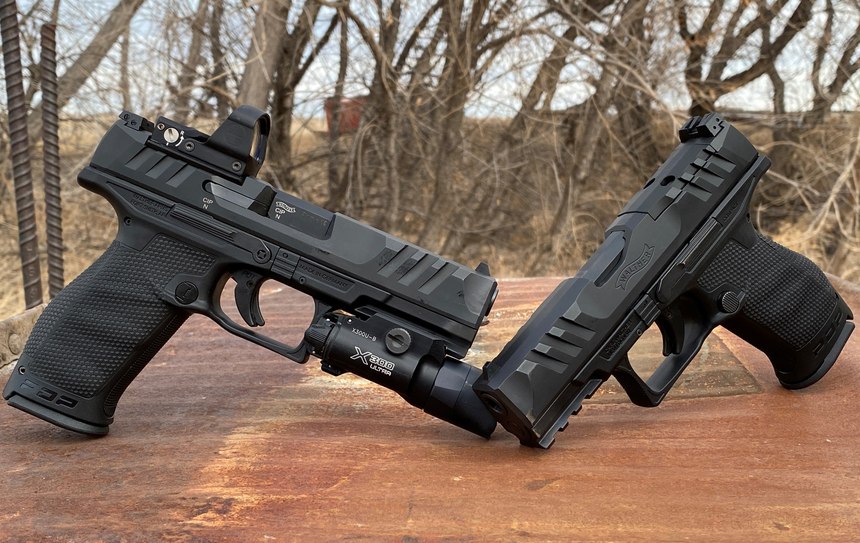 Picking the full size up I felt an amazing grip, curved, rounded and swelled, that naturally drove the web of my strong hand into the very top of the generous beavertail. Yes, the gun comes with grip modules, but I didn't need one and my 2XL hands fit marvelously. The texture of the grip was serious, just under cheese grater, so enough to make sure even hastily garnered grasps go a long way to managing recoil.
Walther Defense Division
Included with the training were a belt and a few different holsters (Safariland Level III, PHLster Floodlight and C&G OWB) to fit the two weapons. Before the release, Walther smartly worked with several holster manufacturers to make sure those wanting to carry the PDP had options immediately. All the erstwhile students gathered the gear and headed to the range after a hardy breakfast.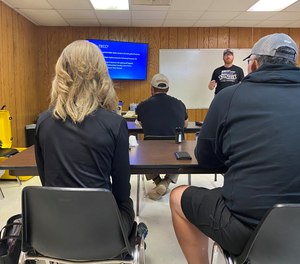 The first class was with Tatiana Whitlock and it focused on shooting from different positions. I don't mean from cover, or even kneeling – we were on our backs, on our sides and bellies. It broke down to shooting yoga and was extremely useful. The PDP leapt to my hand and became an extension as we ran through drills, shooting single-handed, normal and all variations from different positions. Both guns had Leupold DeltaPoint Pro red dot sights mounted and they performed marvelously enabling me to hit my target from bizarre positions.
The afternoon was spent with Scott Jedlinski focusing on RDS and their use with the PDP. This class was dedicated to drawing, picking up the dot and getting shots on target quickly. Timers were used and everyone's skill progressed from where they started. The essence of going fast where it was safe and slowing down when needed (for accuracy) became a mantra. The PDP was outstanding and as I grew more accustomed, I sped up. One of the final drills in the class was called 3&2. The shooter is required three hits to the chest box, then two hits to the head box from 3 yards starting in the holster. I accomplished this in a hair over three seconds and felt some rust knocking off.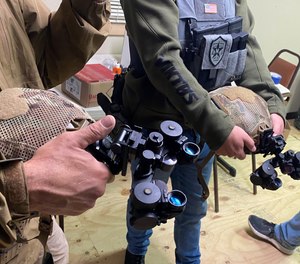 The following morning my group went through an emergency casualty care class with Jim Dexter, following along in the PDP theme of being prepared for anything. The course covered good basic medical skills for officers, especially gunshot trauma. We practiced various tourniquet applications and other critical life-saving techniques.
Back to the range that afternoon and the rain moved in, sprinkling intermittently at first, then ranging to a downpour. On we shot, working with Nick Young on shaving seconds off our times in various drills. The timer became our master as we pushed the boundaries of control and accuracy to find our limits, then surpass them. I began to realize I had easily fired over 3,000 rounds through the two guns over the last 48 hours and the guns had not been cleaned. Other than the rare ammo-inducement, there were no malfunctions.
We later returned to the range in the dark and were fitted with night vision goggles (NVG) for the next training. Bill Blowers briefed us on the mission, and we were soon lighting up the night with IR lasers, emitters and muzzle blasts. We focused on combining the various technologies in order to absolutely dominate the dark. Using both the full-size and compact PDP, we were all able to truly focus on our targets and light discipline. The guns ran marvelously and the DeltaPoints were able to be dialed down so they didn't appear as solar flares to our NVGs.
Laid bare
To say the least, I was impressed with the PDP. Walther sent us out with top-notch trainers and had us shoot at a determined pace over the course of the two days. You have to be confident to send that many media types out to the range with a truckload of ammo and cut them loose. The guns ran reliably despite the continual onslaught.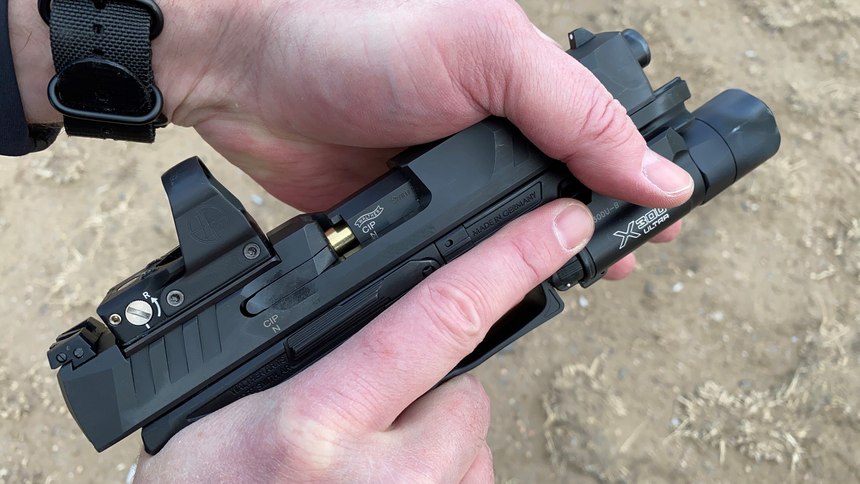 There are so many features about the PDP I really like and consider absolute benefits to the officer on the street. When zeroing the DeltaPoint I shot a one-inch group (unbraced) at ten yards – the gun is accurate. The grip is superlative. The texture really helps you hang onto the gun. The shape of the grip is amazing. The sides are rounded and even where they are flatter a hint of finger grooves can be found. The overall effect is a wonderful gun/user interface.
That solid melding between shooter and gun pays benefits in the quick establishment of grip, as well as excellent mitigation of recoil. The way the guns are designed helps with this too. The slide on the full-size has enough heft to tame the 9mm and shoots relatively flat. The compact is only slightly snappier, though both guns are well manageable and offer a quick return to sight picture for follow-up shots.
The trigger is surprisingly good for a striker-fired gun. It felt like a two-stage with about a millimeter of travel before reaching a wall that then broke cleanly at an average of four pounds. Trigger reset is quick, audible and tactile. The controls are all capable of being ambidextrous. Milled serrations on both ends of the slide are superb, allowing manipulation for loading, reloading and press-checking. The sights on the gun are compatible with Glock sights
Approved for duty
The whole Walther experience is impressive. The level of training is elevated, and all the topics should be included in law enforcement training. In addition, at this preeminent state, the instruction was not a demonstration of what to do, rather, it was an exploration of finding what worked for each shooter in order to improve.
The PDPs ran like indefatigable precision instruments. They did not falter through the dirt, gravel, rain, mud, or lack of cleaning. While glamour and intrigue go hand-in-hand with 007 and MI6 missions, it is a grave responsibility to serve as a sidearm for a law enforcement officer where lives hang in the balance. In my opinion, Walther has proven the PDP wholly worthy of that esteemed role.
NEXT: How to buy firearms (eBook)

Request product info from top Police Firearms companies
Thank You!