PRESS RELEASE
Walther PDP F-Series takes top spot at A Girl & A Gun's 11th Annual National Conference
---
FORT SMITH, Ark. – Walther Arms, Inc. is proud to claim their PDP F-Series as the most popular pistol brought by women who attended A Girl & A Gun's 11th annual national conference, AMPLIFY 2023. The shooting league was created by women, for women to support shooters of all levels, advance their skills, and make the shooting industry more approachable.
"As the number of women entering the firearm industry steadily increases, we want to make sure we're on the forefront by continuously providing what female shooters are actually needing. Creating a handgun tailored specifically for women, plus partnering with organizations with strong female-focused leadership and firearm knowledge, sets the foundation for nothing but success," said Jens Krogh, vice president of marketing and product development for Walther Arms, Inc.
"The female hand contour, size, and shape is different, which was a driving factor in the adjustments we made when we created the F-Series. Enhancing the comfort, which brings more confidence overall and accuracy to everyone's training and shooting, also makes it a much more enjoyable experience. We are thrilled to see that women are drawn to this handgun. That they've found it fits their needs much better and allows them to be more proficient shooters."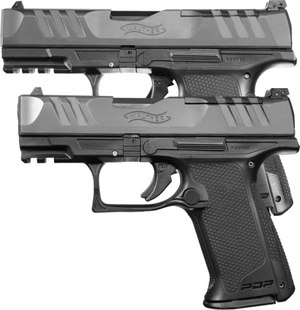 Walther's PDP F-Series, designed specifically for women, launched early last year, has proven to be a big hit among females in the shooting community only a year later. Of the 843 handguns that were screened at the event, 11.39% of them were the Walther PDP, more specifically 80 were the PDP F-series. The F-Series handgun offers a reduced trigger reach, reduced grip circumference, and reduced force necessary to operate the slide. These adjustments have been a game changer for women, making maneuvering around and handling their firearm easier.
A Girl & A Gun works to make the essential skill of shooting more accessible and approachable to every-day women. AMPLIFY 2023, a week-long, all-female conference, hosted women from across the nation and offered participants over 400 training classes to choose from and were led by top firearm instructors. The courses ranged from skill building to competition shooting; offering something to every level shooter.
Walther continues to support female shooters and firearm enthusiasts through producing accessible and tailored handguns. Never sacrificing innovation, versatility, dependability or effectiveness in concealed carry and conventional service situations.
About Walther
"It's your DUTY to be READY" is a message of sincerity that Walther must build the best performing firearms. It is a message to every shooter who understands the importance of firearms safety and the inalienable right to bear arms. It is a message to clearly and concisely show that Walther is doing everything in its power to support shooters everywhere with not just the absolute best in firearm innovation and performance but also access to the best training and informative firearms community. History has shown Walther's dedication to this message, beginning in 1886 and continuing today, with the innovative spirit that builds off the invention of the concealed carry gun by creating duty grade weapons such as the PDP and world-class rimfire products such as the P22 and WMP. Walther will continue its long tradition of technical expertise and innovation in the design and production of firearms to meet the demands of any customer. Excellent service and superior quality will continue to be benchmarks of Walther's success.

Request more info from Walther Arms, Inc.
Thank You!