Equipment to enhance use-of-force and decision-making training
Technology is one way to assure officers have the opportunity to exercise skills from verbal de-escalation to deadly force
---
A good firearms instructor can often make chicken salad out of chicken sh__. The discreet application of technology can make the sometimes onerous task of firearms training more realistic and, in doing so, help improve officer skills and better meet the needs of the communities they protect.
Except in the large urban departments, ranges available to law enforcement agencies rarely have the right mixture of space and facilities to accommodate the wide variety of scenarios that trainers would desire.
Instead, many departments make do with what they have. Despite the scarcity of resources, good instructors develop excellent and dynamic firearms drills that reinforce the importance of basic gun handling skills and simultaneously place them into the larger context of police response to and interaction with violent criminals.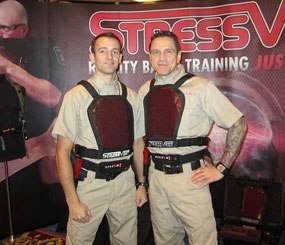 Additional Tools in the Training Kit
In our increasingly litigious world, effective firearms training is no longer enough. The use of a firearm during a deadly-force encounter will always be questioned. Even those saved may claim that police were responsible for their traumatization, either because officers did not respond rapidly enough or that officer actions precipitated what was already a life-threatening and violent encounter.
This culture has demanded that trainers integrate firearms skill development into the wider scope of use-of-force training while never relegating gun-fighting skills into a niche skill set. Technology, though often expensive, is one way to assure officers have the opportunity to exercise the wide skills they must possess, from simple verbal de-escalation techniques to the use of deadly force, which often includes the use of a firearm in defense of themselves or others.
Trainers have two ways of approaching the integration challenge. First is through role playing, using Simunition or similar training devices, which can quickly degenerate into a "I shot you first" argument. This often does little more than to call into question the trainer's competency while the lessons are quickly lost (if they were ever learned) among the training population. The second way is to integrate technology into training in an effort to take out "human" error and qualitative judgments.
StressVest Injury Simulation
StressVest offers one possible solution. StressVest is marked through Setcan, a company that has been around for eight years and provides a wide variety of reality-based training products.
For the past two years, according to Jeff Quail, StressVest's director of research and development, the company has offered a proprietary, reality-based alternative with "control parameters" to improve law enforcement training.
Already in use by the FBI, FLETC, and Dubai's national SWAT team, a department can purchase one belt, a vest, and a less-expensive dry-fire pistol (they also offer CO2 recoil and blank-fire options).
Once the belt and vest are synchronized, you are ready to begin training. When the trainee is "hit" with the laser beam from the pistol, the belt/combination either vibrates or shocks the trainee. The shock is nothing near the voltage of a Taser, which some may find disappointing. The trainer can establish the parameters and have the vest emit a vibration or a shock lasting 110-150 milliseconds with up to 4,500 volts, certainly enough to attract an officer's attention. Two or more vests are obviously necessary for force-on-force training.
For an additional $3,799, a department or consortium can purchase a tablet that allows the trainer to control and adjust the vests. With the tablet, the trainer can use the vests to queue out-of-sight role players (with vibration, of course) and to emit electronic shocks to officers that have confused concealment with cover or gamed the system by making themselves impervious to a laser hit by hiding behind, say, a door or thin wall.
The company is most proud of a recent addition to the system's capabilities: an ongoing and variable shock setting that begins when an officer is first "hit," and then repeats randomly with various degrees of intensity, in order to force the officer to "fight through" the pain and distraction. As Jeff points out, each "trigger pull costs nothing," and over time he believes that departments can save money over Simunitions.
TiTraining Weapons Scenarios
TiTraining, which offers a wide range of complex and interactive use-of-force and training simulators, has also added a vibration vest to their offerings. The company believes their system offers officers a "theater-style simulator experience."
The company's simulators can accommodate, based on a department's needs, verbal de-escalation, baton and TASER use (they also build a TASER trainer), OC spray, pistol, shotgun, and patrol rifle (among many) force alternatives. The system comes with tetherless CO2 recoil kits for many of the most popular service firearms in use today.
The vibrating vest allows the trainer, who controls the simulation, to send a vibration to the trainee's vest to signal that the officer is vulnerable to incoming fire. Though obviously not as robust as the StressVest, TiTraining's vest would be a good way to integrate an additional level of realism into their already realistic training scenarios. A vest and sensors cost approximately $4,200.
Just as no single technology application or system will provide a department with a truly realistic scenario, no one training device will fit all department needs. Each department and agency has their own unique training requirements, often tempered by realistic budget limitations. Technology does not offer foolproof training "solutions."
Nor does it (currently) replicate, let alone replace, good firearms training. Instead, technology offers a variety of training alternatives to enhance and reinforce quality firearms and use-of-force training.