Why scenario training should supplement (not replace) range training
Individuals in charge of scheduling and designing training programs may not understand they are failing their shooters by making the switch from firearms training to scenarios
---
There appears to be a disturbing trend in the world of law enforcement firearms training. Programs are spending more of their time and resources on scenario-based training and less time on the range. While scenario-based, or reality-based, training has merit and a place in our training programs, it is not firearms training. It is a decision-making exercise and a test. It should not take the place of quality shooter training.
The use of scenarios should best be viewed as a test of skills or a final exam. It is an opportunity to employ and demonstrate a variety of skills, under stress and within compressed time frames, in a safe and controlled environment.  A well thought out and executed scenario can incorporate more than just the use of firearms in a shoot, no shoot situation. They can include less lethal, officer down, buddy and self-rescue, team movement, triage, water rescue, evacuation and the list goes on and on. But this is not the time to train. Each of the skills to be incorporated in a scenario should be trained in detail before being performed in a quasi-realistic situation. We would never ask our officers to perform a swift water rescue without first giving them extensive training on the skills they will need to extract and survive that rescue attempt. So why are we so willing to give up time spent on the range mastering the fundamentals of marksmanship and weapon handling in lieu of firearms focused scenarios?
Reality-based training is a supplement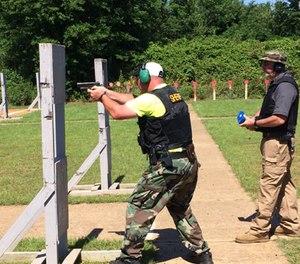 Just like qualification, reality-based training is a test where the instructors run the scenario, but do not focus on teaching or coaching. In essence, they are evaluators rather than instructors.  The only time allotted to train in these dynamic scenarios is the debriefing following the exercise. By then the training opportunity is mostly gone. Telling someone what they did wrong may be enlightening, but it is not training. And while those who respond and learn well from verbal instruction may glean helpful information from a debriefing situation, those who are visual and kinesthetic learners likely will not.
Adults learn best when offered a variety of stimuli from which to gather information. In order to learn or master a skill, repetition and timely assistance is the key. By using the hear, see, do approach to coaching, an atmosphere conducive for neuro-linguistic programing is created.  When given the opportunity to replicate a demonstrated behavior, adult learners are more likely to gather and retain important information. It is impractical and may even be detrimental to repeat scenarios. This is where the use of well-designed drills on the range is so important.  The use of range drills allows the coach to witness each shooter's performance of the desired skill repeatedly while in a position to offer the shooter the assistance they may require in order to master that skill. 
This is the time and place to focus on and coach the shooter's ability to put rounds on target consistently within restricted time constraints. This gives officers a place to fail. We all recognize that training is the place to fail. By allowing our shooters to do so in a controlled environment, then offering them the opportunity to repeat a drill until they become proficient, we are providing training. The pressure of the test is off and the acquisition of the necessary skills is the main goal. If we do not push ourselves to the point of failure, we never know our true abilities. By pushing our limits past our abilities, we allow for improvement.   
When, and only when, officers are proficient in the skills to be tested, should the use of scenarios be employed. If officers are not equipped with the skills they need, they are being set up to fail. And while they may view reality-based training as fun and exciting, they may not realize the implications of what has transpired. The debriefing may tell them what they did right and what they did wrong, but without that repetition, no training (improvement of skills) has occurred. If good firearms instructors are paying attention to the information provided in the scenario debrief, then they will be able to readily identify any training deficiencies or scars that may have unintentionally been created on the range, thus evaluating the test.
There could be several causes for the current trend of replacing range time with scenarios.  Many trainers do not understand the learning process, and they don't know what they don't know. They are falling victim to their training deficiencies, and the cycle continues. They may be excited to use all the cool gadgets involved in reality-based training, but many fail to understand how to properly utilize these tools. These trainers would benefit from reading Ken Murray's "Training at the Speed of Life."
Range time is imperative
In addition, individuals in charge of scheduling and designing training programs may not understand that they are failing their shooters by making the switch from firearms training to scenarios. Many view it as killing two birds with one stone. And when being asked to do more with less, they see this as a good compromise. But it is not a compromise, it is a tradeoff.  Incorporating scenarios will add diversity and strengthen a training program, but it should never replace time spent actually training skills imperative to surviving the job.
We need to push our training programs to be progressive and to stay relevant. In an attempt to do just that, too many training programs are falling prey to the latest and greatest trends in law enforcement training without first evaluating them through a discerning eye. We shouldn't just jump on the bandwagon without first evaluating a technique for ourselves.  While reality-based training and the use of scenarios have a lot to offer, it is training in name only. It should never replace valuable time spent on the range teaching and coaching officers in the fundamentals of marksmanship and placing rounds on target within restricted time constraints.
Firearms training should focus on skill development, the fundamentals of marksmanship and placing accurate hits on target within compressed timeframes.  Scenarios can be used to test these skills.

Request product info from top Police Firearms Training companies
Thank You!