'This program saves lives': How agencies can improve the health and safety of LEOs
Take the first step by submitting an application for the 2022 Officer Safety and Wellness awards program
---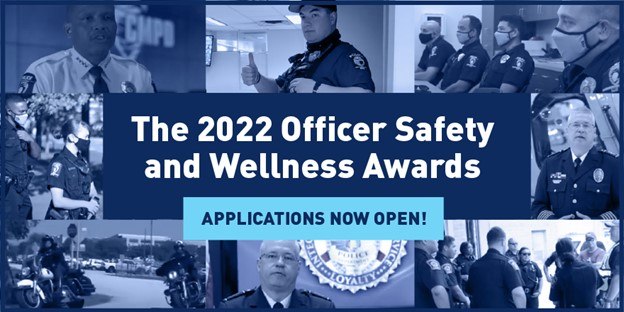 Content provided by the National Law Enforcement Officers Memorial Fund
The National Law Enforcement Officers Memorial Fund has announced that law enforcement agencies can apply for its 2022 Officer Safety and Wellness awards through January 31.
The awards program, which serves as the content vehicle for the organization's Destination Zero initiative, has become American law enforcement's primary source for safety and wellness education and training.
"This program saves lives. And not only are we rewarding agencies that do innovative things, but we're providing a laundry list of reference material for other agencies. They don't have to reinvent the wheel – they can look at what other agencies have done. As our profession evolves, as new risk factors present themselves, like COVID, you're going to find that Destination Zero is able to navigate those paths with us and continue to help keep our officers safe," said Chief Thomas Manger, United States Capitol Police, of Destination Zero in an interview in October.
The Destination Zero program helps improve the health and safety of law enforcement officers across the country, from agents to correctional officers, from troopers to patrolmen, from sheriffs to constables, with proven beneficial programs. The goal is not only to recognize the most effective programs, but also to share programs that have potential benefits for other agencies. Some programs may not be applicable for all agencies due to discrepancies in size and disposition. But the aim is to provide information that will assist any agency, no matter what the situation.
The first step to apply for the awards is through a simple online form located on the Destination Zero website. The form must be submitted by January 31, 2022.
Any program deemed to have a proven record of safety and wellness, whether or not the program is an award winner, will be featured on DestinationZero.org. There are currently over 200 programs and program components available to any law enforcement agency free of charge.
All submissions will be reviewed for follow-up with full application instructions. Winning agencies will be flown to Washington, D.C., for an awards banquet in their honor and receive a professionally produced video detailing their accomplishments that is permanently hosted on the Destination Zero website. An example of this can be found here. Winning and finalist agencies are given access to the Destination Zero Alumni network, reported in nationwide press releases, and receive awards from The National Law Enforcement Officers Memorial Fund.
Questions regarding Destination Zero or the National Officer Safety and Wellness Awards should be directed to Troy Anderson, Executive Director of Officer Safety and Wellness at the National Law Enforcement Officers Memorial Fund, tanderson@nleomf.org.

Request information from Destination Zero - NLEOMF
Thank You!