Entrepreneurship in Blue
---
Ed Note: Police1 has just launched a unique new product area focused specifically on companies that are run by cops, for cops.  Check it out and let us know what you think.   
By Hannah Simon
Police1 staff writer
Working as an inner-city patrol officer in Columbus, Ohio, Officer Kareem Kashmiry realized that he was at a disadvantage with his radio mic. Wrapped around his shoulder and clipped to the front of his shirt, he found it difficult to use when faced with foot chases and arrests. Most officers wear a shoulder mic over their back, but tactically it's not safe, Kashmiry explains.
"My philosophy is that our eyes need to be on the situation at all times. If you're looking down to talk, you aren't watching what's in front of you," Kashmiry says. "That's when I thought of developing something to help officers communicate better."
Not only can mics prevent police officers from keeping their eyes on their subject, but mics with long nylon cords can be easily grabbed and used as a weapon by an attacker.
Kashmiry's idea gave birth to WalkieClip, an accessory to wearing a shoulder mic that makes communication faster and more efficient.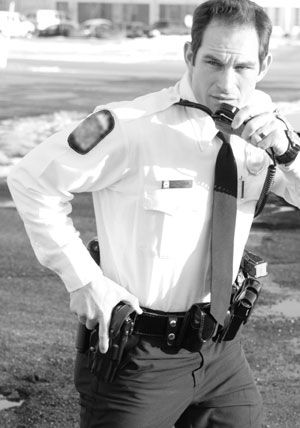 With WalkieClip, you can pull the mic up to your mouth with your eyes on the situation at hand at all times.
"I started making WalkieClip not to get rich, but because I knew it was something that would help me and my fellow officers," Kashmiry says.
Like Kashmiry, many police officers who recognize obstacles and challenges on duty are beginning to take action by starting their own companies to develop products and services that help other cops.
Steve Russ, a retired police officer from the City of Troy Police Department, became the president of Russ Innovations, Inc. after receiving the patent for the Flak Vest Hanger™ in 2003. Working as an officer eight years earlier, he noticed that there was a lack of equipment to safely store body armor.

"Using my background in engineering, I started to work on developing a product to solve the problem of maintaining body armor," Russ says. "I tested the product myself along with five other officers in my department, using their feedback to make adjustments."
Russ says that he has encountered many officers who are more likely to trust products when they are developed and sold by other law enforcement officials.
"Cops are used to being sold items that are supposed to work but turn out to be a piece of junk," Russ says. "With the Flak Vest Hanger™, officers are more open to the concept because I come from a law enforcement background."
Officer John Johnson has also found that officers are more likely to work with him after they discover that he's a cop. A full-time officer in Suffolk County, New York, Johnson also runs his own insurance company called Balanced Financial Solutions. After his wife got cancer and passed away, Johnson was faced with the cruel reality of being without insurance.
"When I started as an officer, my department did not educate me about insurance," Johnson says. "I was only 23, and never thought I needed it."
Johnson began Balanced Financial Solutions five years ago, helping families of survivors and officers who were also without insurance. He has found that officers are more likely to work with him after they find out he's an officer, too.
"I only allow police officers to work with other police officers," Johnson says. "It's such a tight knit group … customers know that fellow officers will tell the truth."
At Balanced Financial Solutions, Johnson offers life, health, disability, and long term care insurance. He has come to realize that police departments don't thoroughly explain the importance of insurance, deferred compensation or retirement planning to their employees.
In fact, cops are more likely to become disabled during their earning years than other jobs. Johnson believes that it's important for cops to understand safety in terms of financial livelihood.
"We have dangerous jobs, and we need to protect our families," Johnson says. "If we can't help each other, who else will?"
Whether they are developing a product or providing a service, police officers who run their own business face constant demands and challenges. It's not easy to balance a career in law enforcement and run a private business with the little free time available.
"If a cop is thinking of starting his own company, my warning to him would be that you're going to put in an awful lot of hours and work harder than you ever thought," Russ says.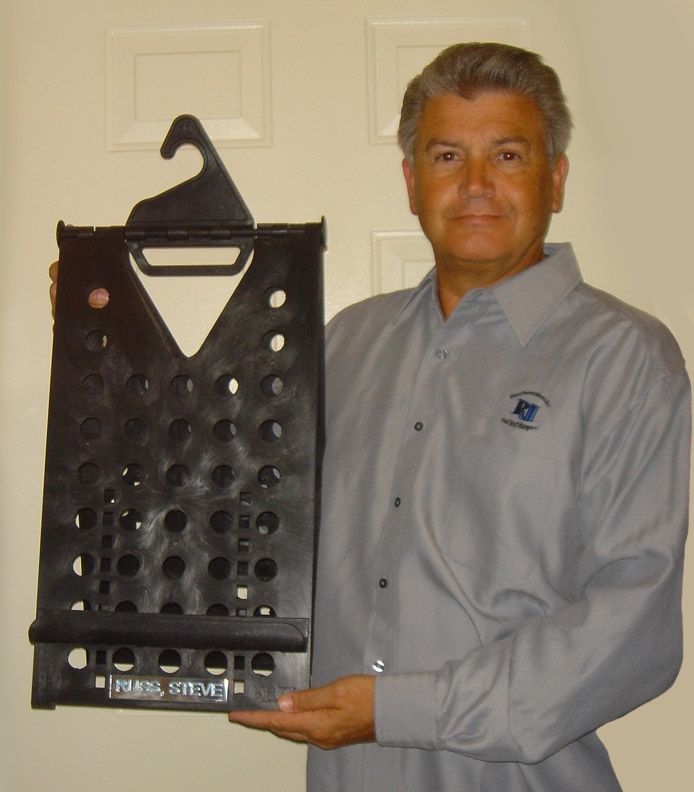 Steve Russ, showing off his design for the Flak Vest Hanger.
Running a company that deals with law enforcement products and services can be a powerful networking tool as well. When Kashmiry developed the WalkieClip, it received a score of 4.85 out of 5 by the National Tactical Officer's Association. Through websites, Kashmiry has been able to distribute the product nationwide.
"My whole thing is that I just want to get the product out there," Kashmiry says. "Starting your own business helps you grow as a person, but it's not easy, that's for sure."
In fact, Johnson knows many officers who started their own companies and failed.
"You have to be willing to do whatever it takes to make it work," he explains. "I have plenty of 18 hour work days, but it's rewarding because I really believe in what I do. In the end, I know that I'm helping fellow cops."
* Learn more about WalkieClip
* Learn more about Russ Innovations, Inc.
* Learn more about Balanced Financial Solutions

Request product info from top For Cops, By Cops companies
Thank You!