PRESS RELEASE
An important one-day event: Critical incident considerations for appointed and elected officials
---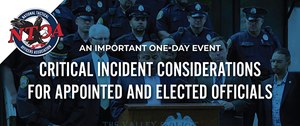 COLORADO SPRINGS, Colo. – The National Tactical Officers Association (NTOA) will be hosting a one-day event that will offer firsthand debriefs by several distinguished individuals who helped guide their communities through the aftermaths of some of the most horrific acts of mass violence in recent history.
Debriefs will include the San Bernardino terrorist incident, the Aurora theater attack, and the Pulse nightclub event, among others.
INTENDED FOR:
County executives, mayors, city and village managers, township supervisors, city council members, boards of supervisors, law enforcement executives, fire service executives, school administrators, risk managers, and attorneys.
TOPICS COVERED:
How to foster community-wide emergency preparedness
What tactics, training, and equipment public safety agencies require to respond more efficiently
How to best support incident commanders during all operational phases
What resources state and federal governments bring to the table
Practical and realistic approaches to family reunification
The importance of immediate and ongoing social, television, and print media relations on a local, national, and international level
Supporting the survivors and community throughout the vigils, protests, visiting dignitaries, funerals, and anniversaries that follow
How to achieve recovery and resilience among your employees and constituents
Risk management issues
Political implications
Conducting and learning from internal and external after action reviews
COST: $99
LOCATION: Rosen Centre Hotel, 9840 International Dr., Orlando, FL
For more information on the National Tactical Officers Association, visit www.ntoa.org or call 800-279-9127. Join the NTOA today and start receiving the benefits of better training and stay on top of the ever-changing and challenging world of law enforcement.
About the National Tactical Officers Association:
The mission of the NTOA is to enhance the performance and professional status of law enforcement personnel by providing a credible and proven training resource as well as a forum for the development of tactics and information exchange. The association's ultimate goal is to improve public safety and domestic security through training, education and tactical excellence. www.ntoa.org.

Request more info from National Tactical Officers Association
Thank You!