PRESS RELEASE
StarWitness™ Field Interviewer: Our Answer to the Department of Justice's Mandate to Record Interviews
---
Cary, NC — Effective July 2014, the U.S. Department of Justice established a new policy requiring all federal interviews be electronically recorded.  StarWitness™ responded to our federal customers' new mandate and met their needs with our StarWitness Field Interviewer.  This powerful, compact recording device is also available to state and local law enforcement agencies. 

The Field Interviewer is an easy-to-use, portable interview recording system that is designed to be used anywhere.  The device has non-slip rubber feet that can be secured anywhere:  a car's dashboard, a tripod, placed in the palm of your hand, or simply set on a table.   Other features of our portable interview recording kit include:
- A magnetic, detachable wide-angle fisheye lens that provides a 110 degree field-of-view
- A spare micro-SD card integrated into the recording unit.
- Non-slip rubber feet, perfect for securing to any surface
- A diffuser lens integrated with white LED illuminator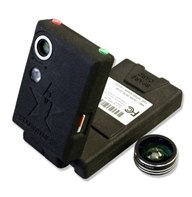 The kit also includes a smart tablet for previewing your interviews and a software package for playback, management, and burning DVDs of interview recordings.
To schedule a demonstration or for more information on the StarWitness Field Interviewer and our other products please visit www.starwitness.com.
About Signalscape
Signalscape's industry-leading products are used worldwide by law enforcement and professional security. StarWitness solutions use proprietary technology to recover, analyze and utilize video evidence to find the truth. StarWitness technology serves as a witness of the truth.