Achieve rapid investigation results with a field digital forensics solution
A mobile digital forensics lab allows detectives to gather electronic data from devices at a crime scene without taking them to a lab for testing
---
Time is of the essence in any investigation, especially violent crime, and one of the first and most effective sources of evidence is a suspect's digital footprint, whether it be on a smartphone, laptop, desktop, or tablet.
Typically, these devices need to be transported to a lab for interpretation, which wastes valuable time and resources. Imagine the benefits that could be gained if an investigator can immediately scour a device at the crime scene for evidence and deploy real-time strategies to apprehend the suspect.
It appears the wait is over with the introduction of mobile digital forensics units.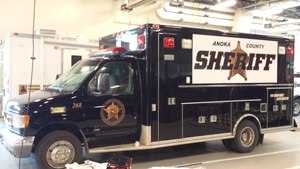 The Anoka County Sheriff's Office in southeast Minnesota has introduced a cutting-edge strategy by converting a donated ambulance into a mobile digital forensics lab that they drive right up to a crime scene. Within minutes of arriving, investigators can have a clear sense of whether the suspect left any digital indication of their criminal intent or methods.
Sheriff James Stuart told Police1 that the unit – which cost about $5,000 to retrofit – has paid for itself repeatedly since being implemented in 2015. He said investigators came up with the idea and did the majority of the conversion work by redesigning the unit, and taking excess supplies from the primary forensic lab.
"If we had three of something in the lab, we would take one and put it in the mobile unit," Stuart said.
Stuart immediately observed the value of the unit for citizens who wanted to help with investigations by providing cellphone video or photos.
"In this day and age everybody has a cellphone with a camera," said Stuart. "If we are at a scene and want to examine video it's not fair to tell someone that we have to take the phone and give it back to them in a month; now we can download photos and video right at the scene and give the device back to the cooperating witness."
He was quick to emphasize the unit's contribution to community engagement, courtesy, and respect for property as a valuable asset in investigations.
One case where the unit was instrumental, as reported by the Minneapolis Star Tribune, involved a man charged with killing his 10-year-old son in March 2017. Investigators detected cellphone signals giving a detailed account where the suspect was on the day his son disappeared. And when two Anoka County girls went missing investigators were able to examine their smartphones and iPods to locate them in the basement of a man who was ultimately charged with felony criminal sexual assault and kidnapping.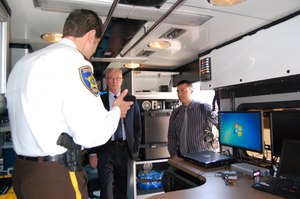 The Anoka Sheriff's Office mobile forensics lab has everything required to off-load data, video, audio and photos, as well as making hard drive back-ups. It is not equipped nor used for electronic surveillance.
The unit is deployed at the discretion of investigators with the support of appropriate search warrants.
Stuart said the unit has been extremely useful proactively.
"We have used it on knock-and-talks with suspected sex predators who allowed us to see their devices," he said.
This strategy is especially valuable in active shooter investigations, gang activity, and even acts of terrorism where the majority of suspects are young males who typically post their intentions and spoils on-line.
Stuart said the unit is an example of reinventing the wheel and its implementation is limited only by an agency's imagination.