Spotlight: QueTel's products allow cops to spend more time on the street
TraQ Suite helps eliminate paper and duplication
---
Company Name: QueTel
Headquarters: Chantilly, VA
Signature Product: TraQ Suite
Website: http://quetel.com/
Q&A Questions:
1. Where did your company name originate from?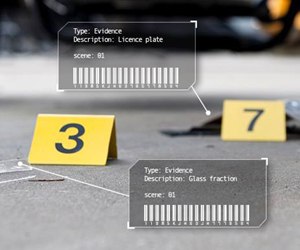 In the early 1980s I began investigating starting a business to sell barcode and PC systems operating in the then-new DOS operating system. My wife and I had formed a company called Teleconomy. The name QueTel is a combination with the name of another family company, Queue.
2. What was the inspiration behind starting your company?
Using barcodes and the new PC technologies made it possible to develop and market computer software that was far below the cost of the common proprietary mini-computer systems that ruled the "low end" of software in 1982. I was encouraged by family and colleagues to take up this new technology, and with a part time consultant we developed an asset tracking system. After some success with marketing barcode asset systems, the owner of the leading barcode scanner company at the time asked, "Why not consider police evidence? It's much like tracking assets."
3. What is your signature product and how does it work?
The signature product, TraQ Suite, is a family of applications centered on evidence management, digital evidence management, and forensic lab management. The applications help describe, store, manage, present, and purge evidence and digital evidence, from the point of collection through the lab, to court, and, finally, to disposition for police departments of all sizes. The software provides a secure chain of custody along with features that help eliminate paper and duplication.
4. Why do you believe your products are essential to the police community?
One client put it simply, "I see your products making it easy to 'help my people'" meaning officers, investigators, and evidence custodians do their jobs. They help officers spend more time on the street; detectives can more easily assemble evidence descriptions, images, videos, and audio recordings for court; and custodians spend less time chasing paper and performing redundant tasks. Another client, the lab director, indicated that our products "help manage all evidence from collection, through analysis, to court, and, then, to disposition."
5. What has been the biggest challenge your company has faced?
Keeping up with technology is a challenge we have consistently embraced as an opportunity! In order to find new ways to make it easier for officers, investigators, prosecutors, and evidence custodians, we have tried to keep up with technological advances. Be it managing digital evidence or helping our clients with software to redact video for release to the public, staying up with the new features that our clients want, or implementing solutions to needs they had not hitherto conceived of. This has meant continually hiring developers with the latest skills that can capitalize on new technologies.
6. What makes your company unique?
Our multi-tiered technical architecture permits housing multiple applications in one database, to enhance efficiency and effectiveness for law enforcement agencies. This architecture means adding new features, and even new management applications, as "plug ins." What this means is that we can respond to clients' needs more quickly and effectively than any other vendor.
7. What do your customers like best about you and your products?
The ability to eliminate duplication from the work of officers, simplify evidence intake, eliminate paper files, and speed up the devilishly difficult processes needed to obtain authority to clear shelves of unneeded evidence items.
8. What is the most rewarding part of serving the first responder community?
The feedback we get from clients to the effect that they love our products and support. We dwell on the unsolicited statement of one crusty old timer: "I've seen systems come and go, but this is the easiest one to use I've seen in my 25 years on the force." We like to be incited by their suggestions for improved features and they are excited when we can offer them in the next release.
9. Is there any fun fact or trivia that you'd like to share with our users about you or your company?
While I could have retired a decade ago, I relish the excitement of working with younger developers and our passionate clients, who can take an idea for a new feature and turn it into a product that many clients want.
10. What's next for your company? Any upcoming new projects or initiatives?
We are currently perfecting the software we use for our redaction service, making it faster and more effective. In addition we expect to be working on our software to map and control the complex legal steps in managing forfeiture of seized property.