How to use video surveillance camera systems to monitor crime hot spots
Police departments need to be able to monitor neighborhood hot spots without monopolizing all of an agency's resources – enter deployable camera systems
---
Patrol officers, 911 calls or a gunshot detection system are all pointing to a crime flare up within your jurisdiction. Maybe a local hospital and the morgue are filling up with fentanyl overdose victims. It would be nice if you could deploy additional officers to keep watch, but like every other agency, yours is under a budget crunch that won't support allocating additional personnel. And if you do have an opioid problem, sending in officers probably won't help you figure out the source as the problem moves to a new location.
A surveillance camera could help, but the time required to install, power and run cabling to your HQ will make the perps watching you install it move to a new location. Now that smartphones can record, store and send high-quality video, you would think there should be a better solution to put remote eyes on a problem area.
The Internet of Things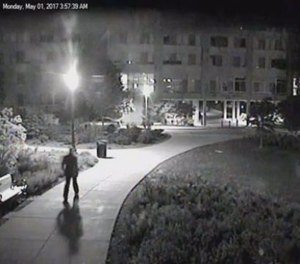 Well, there is, and it is called IP video surveillance. The IP means "Internet Protocol," but what is means to you is more important. An IP video surveillance system doesn't need anything more than a cellular or Wi-Fi network and power – and some don't even need that, with built in batteries and/or solar cells. You already know how small a cellphone camera is, and some IP camera systems are not much larger.
While these systems wirelessly send an encrypted video stream back to your HQ, the devices also can be accessed by authorized personnel running apps on a laptop or smartphone. To prevent unauthorized access, credentials can be downloaded to specific devices, or additional credentials like a smart card can be used to identify who is accessing each camera.
In other words, a local command post or responding officer can have eyes on the situation to help them make better decisions. Many apps not only allow you to view the video stream, but many let you control the camera's tilt and pan, zoom level, and change from visible light to infrared.
Easy, Covert Installation 
The system you select depends on your mission and budget. You might be able to install a system that looks like a camera if it will be in a hidden location, such as looking through an apartment window or down from a water tower. But if you need a closer look, perhaps your local phone or power company can install one that looks like a transformer on one of their poles – and those already have power if you can come to an agreement to pay for it.
Monitoring
Depending on the system you purchase, it could come with bundled management software or you may want to buy software from the same or another supplier. Most software lets you view and control multiple cameras – some systems scale to hundreds or thousands of cameras.  Many solutions support automatic scanning of each camera's field of view when not manually controlled, and some can ping you automatically when any motion or a specific level of motion is detected.
If you have watched any crime shows recently, you have seen detectives follow a perp around the city in real time or on recorded video. This isn't just TV magic. When selecting monitoring software, you need to ask about the ease of moving from camera to camera with a flick of a joystick or other control.
Once you know who the pusher is with that bad batch of drugs, you might want to add a few more cameras to help locate his customers before they become victims, or keep a tight leash on him while you finalize your arrest or other enforcement plan. You might even be able to follow him to the source, kicking your investigation up a notch.
Summary
IP cameras make it easy to put eyes where you need them, such as crime hotspots, schools, office parks and shopping centers. With little infrastructure required, they can be installed quickly. The choice is yours and there are a lot of them out there. Make sure you take your time to determine your requirements and research what is available before you start writing your grant proposal or cut a purchase order.