Fla. K-9 dies during manhunt, suspect captured
Police said K-9 Freckles "apparently overheated or had a heart attack" during the hunt
---
Crestview News Bulletin
LAUREL HILL, Fla. — The Okaloosa County Sheriff's Office has reported that K-9 Freckles with the Okaloosa Correctional Institution has died in the line of duty today during a manhunt for 31-year old Eric Dewayne Russell.
Russell is wanted in connection with several recent car thefts and burglaries in Laurel Hill and is still on the run after a widespread search by authorities.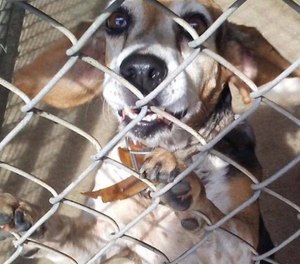 The 11-year-old Beagle "apparently overheated or had heart attack" during the hunt for Russell in North Okaloosa County, according to a Facebook post by the Sheriff's Office.
Walton County deputies apprehended Eric Russell at approximately 10 p.m. Thursday in the area of Adams Drive and Wallace Road.
Previous coverage
LAUREL HILL — The Okaloosa County Sheriff's Office is actively searching in the Laurel Hill area for a suspect in several recent area car thefts and burglaries who has been on the run since ditching a stolen truck near Baker on May 7.
31-year old Eric Dewayne Russell, no known address, was spotted today in the area around Steel Mill Creek Road and State Road 85. But investigators believe he may have escaped the Laurel Hill area in a stolen truck.
A construction worker reported his 2007 white Chevrolet Silverado extended cab truck, with Florida tag 2528PH, was missing from where he left it this morning north of Ludlam Road with keys inside.
The victim told authorities a shotgun was inside the truck.
As a precaution, Laurel Hill School was placed a modified lockdown while law enforcement conducted its search. The school is no longer on lockdown as of 4:00 Thursday.
Residents are asked to secure their vehicles and equipment. Anyone who spots Russell should call 911. Do not attempt to approach or make contact with him. It is believed he could be armed.
Russell has been on the run since Florida Fish and Wildlife Conservation Commission officers tried to pull him over for a traffic stop May 7 on U.s. Highway 90 near the Santa Rosa County line. Russell fled and later got the truck stuck near railroad tracks off Al Gilman Road. He then ran into the woods and escaped.
Deputies later learned the truck was reported stolen out of Coffee County, Alabama. A handgun also was recovered in the vehicle.
———
©2017 Crestview News Bulletin, Fla.
McClatchy-Tribune News Service

Request product info from top Police K9 Products companies
Thank You!