PRESS RELEASE
Protect Canine Officers on the Road and in a Collision with Havis K9 Transport Units
---
Havis, Inc. wins Cygnus Law Enforcement Innovation Award for K9 transport system that improves canine safety and comfort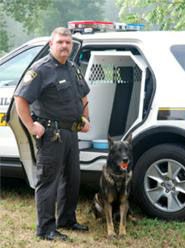 Warminster, PA - For police departments with K-9 units, the safety of their canine partners is paramount. The life of a police dog is so highly regarded that the intentional harm or killing of a canine officer is a felony in many jurisdictions. Canines are considered a part of their handler's family and, if killed in the line of duty, are often given a full police funeral.
Canines provide invaluable services to their departments, including chasing and detaining suspects, search and rescue, and detection of drugs or explosives. While their handlers focus on training for such high-risk scenarios, Havis Inc. focuses on protecting canines in another potentially dangerous situation – riding in the police vehicle.
Canine officers ride alongside their human counterparts through inclement weather, high-speed chases, and distracting surroundings. Havis' award-winning K9 Transport Units are built to shield canine passengers during an accident, and have succeeded in doing so when put to the test in the field.
For a county sheriff's department in Pennsylvania, the decision to use Havis K9 units helped save the life of one of their dogs. During a storm one day, an officer lost control of his vehicle, crossed the median into oncoming traffic, and collided head-on with a pickup truck. Due to the strong construction the Havis unit, the canine officer sustained only minor injuries and was able to continue service with the department.
The Havis K9 unit is an industry leader in safety and quality with its durable, but lightweight, aluminum structure and smooth radius edges. This past October, the Havis 2011 Ford Explorer K9 Transport System was awarded the Cygnus Law Enforcement Innovation Award for Vehicles and Vehicle Accessories. This K9 system was selected over advanced technologies, such as the iForce Integrated Public Safety Vehicle Solution by Rockwell Collins and the AutoVu SharpX License Plate Recognition Camera by Genetec.
Havis won this award for utilizing customer feedback over the years to improve the K9 unit's overall design. One such improvement is the now-standard heavy-duty white powder coat finish, which allows for easier cleaning and eliminates black oxide buildup on the dog's fur. Additionally, the unit maximizes officer/canine space and visibility, allowing the driver's seat to move all the way back for comfort. Other features include larger side-entry openings, generous ventilation holes, and lowered floors for easy canine entry and exit.
The Havis K9 Transport System also offers a number of options to enhance canine comfort and safety, such as the Heat Alarm Window Drop, Hot-N-Pop Unit, ventilation fans and water bowls.

Starting a K-9 division is a significant investment, ranging between $20,000 and $29,000. The cost, alone, of one single-purpose dog with little to no training can run from $2,500 to $4,000. When purchasing a Havis K9 Transport System, departments can be assured that they are protecting this valued asset by enhancing the safety, security and comfort of their canine officers. For more information on Havis K9 units, please visit www.havis.com/k9.

About Havis
Havis Inc. is a privately held company that manufactures in-vehicle mobile office solutions for public safety, public works, government agencies and mobile professionals. For over 80 years, the Havis mission has been to increase mobile worker productivity with industry-leading products that are built to the highest safety and quality standards and are designed with comfort in mind. Headquartered in Warminster, Pa., with an additional location in Plymouth, Mich., Havis currently employs 175 people. For more information on Havis, please call 1-800-524-9900 or visit http://www.havis.com.

Request more info from Havis
Thank You!