Research analysis: Tazed and confused
A new study looks at the cognitive effects of electronic control vs. physical exertion and alcohol
---
By Mark Kroll, PhD, FACC, FAIMBE
An important new study headed up by Don Dawes and Jeff Ho, published in the Journal of Forensic and Legal Medicine, compares the cognitive effects of electronic control, physical exertion and alcohol intoxication. [1]
In this study, 115 subjects were subjected to three sensitive computer-based tests for neurocognitive abilities.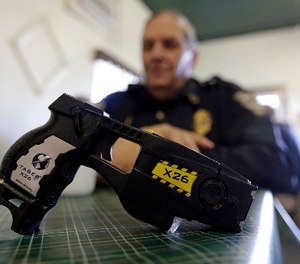 Background
Occasionally, a subject will allege that he could not comply with officer commands because he was "dazed and confused" after the use of an electrical weapon. This is contradicted by the peer-reviewed literature, as subjects can follow simple commands within 1 second of the use of electronic control. [2]
This had been taking a step further with some arguing that a Miranda consent was not valid after electronic control.
That position is very dubious as multiple studies have shown that subjects can immediately operate a keyboard and perform computer testing. [3-6]
One researcher found that 1 test score went down while 5 went up. [3]
This received a fair bit of media attention with the suggestion that this would call Miranda consent into question. None of the media accounts – that I recall – mentioned that 5/6 test scores actually went up in that study.
The New Study
The 115 subjects each took a 10-minute battery of 3 sensitive cognition tests:
The "Procedural reaction time" test measures attention and processing speed by having the user respond as quickly as possible to different sets of stimuli based on simple rules. The user is instructed to press the left mouse button if the number 2 or 3 is presented on the screen and the right mouse button if the number 4 or 5 is presented on the screen.
The "Matching to sample" test measures visual spatial discrimination and working memory by presenting the user with a visual pattern for a specified period of time and then, following a brief delay, asking the user to select the previously seen pattern from two choices.
The "Logical relations" test measures abstract reasoning and verbal syntax ability by asking the user to evaluate the truth of a statement (e.g., "& comes after #") describing the order of two symbols displayed on the display (e.g., "& #"). The user presses designated buttons to indicate whether the statement is true or false.
After the cognition testing, 48 random subjects were invited to the bar and 21 "control" subjects were given nothing to do but relax in a break room.
To stimulate an arrest-related struggle, 18 subjects were coached through high-intensity exercise with maximal effort.  
An unlucky 24 subjects received a 5-second electrical weapon exposure from probes shot into the back.
The cognition testing was repeated 10, 35 and 85 minutes after the intervention.  The imbibing subjects were divided into a "HiAlc" group if their BAC was > 0.12; the rest went into the "LoAlc" group.
The 18 HaAlc subjects had an average BAC of 0.16; the 30 in the LoAlc group subjects had an average BAC of 0.08.
Study results and implications
The HiAlc group was the only one that suffered statistically significant declines in cognitive performance. The other groups had test scores that were either steady or showing a slight increase.
The authors included a discussion of the case law on Miranda consent after intoxication; I suspect attorneys will find this interesting. The authors concluded:
"The courts have consistently ruled that alcohol intoxication does not invalidate the Miranda waiver or consent... This study does not support delaying obtaining a Miranda waiver or consent after a CEW exposure. This study also provides additional evidence that there are no long-term neurocognitive deficits following a CEW exposure."
The study included a nice bonus for the defense of excessive force litigation.
Immediately after the "intervention," subjects were given standard law enforcement commands: Stand here, turn and face away from me, spread your feet apart, and put your hands behind your back. All subjects were able to comply.
"The CEW neurocognitive literature is strongly supporting the assertion that any neurocognitive deficits after a CEW exposure are related to a general stress response, are not different from other stressors, are transient, and unlikely to be of legal significance from a consent or Miranda perspective. There is no evidence of any long-term effect," said study co-author Dr. Donald Dawes, a SWAT doc and ER physician in California.
The results of this study scientifically refute the allegation that a criminal continued to resist because he was too dazed and confused to understand the officer's commands.
---
References
1. Dawes D, Ho J, Vincent AS, Nystrom P, Driver B. The neurocognitive effects of a conducted electrical weapon compared to high intensity interval training and alcohol intoxication – implications for Miranda and consent. Journal of forensic and legal medicine. 2018;53:51-7.
2. Criscione JC, Kroll MW. Incapacitation recovery times from a conductive electrical weapon exposure. Forensic science, medicine, and pathology. 2014;10(2):203-7.
3. Kane RJ, White MD. TASER® Exposure and Cognitive Impairment. Criminology & Public Policy. 2015.
4. White MD, Ready JT, Kane RJ, Dario LM. Examining the effects of the TASER on cognitive functioning: findings from a pilot study with police recruits. Journal of Experimental Criminology. 2014:1-24.
5. Ho J, Dawes D, Miner J, Moore J, Nystrom P. Neurocognitive Effect of Simulated Resistance and Use of Force Encounters on Standardized Field Sobriety Testing. The Journal of emergency medicine. 2014;46(2):283.
6. Dawes DM, Ho JD, Vincent AS, Nystrom PC, Moore JC, Steinberg LW et al. The neurocognitive effects of simulated use-of-force scenarios. Forensic science, medicine, and pathology. 2014;10(1):9-17.
---
About the author 
Mark Kroll, PhD, FACC, FAIMBE, is a biomedical scientist with a primary specialty in bioelectricity. Secondary biomedical specialty is biomechanics with a focus on the biomechanics of arrest-related-death (ARD). His bioelectricity scientific work involves researching and lecturing on electric shocks and their effects on the body. In his subspecialty of ARD biomechanics, he published the first paper establishing the amount of weight required to crush the human chest and the first paper on fatal head injuries from electrical-weapon induced falls.
He is an adjunct full professor of Biomedical Engineering at the University of Minnesota and the California Polytechnic University. He was awarded "Fellow" recognition by the American College of Cardiology and the Heart Rhythm Society, and awarded Fellow status by the Engineering in Medicine and Biology Society and the American Institute for Medicine and Biology in Engineering. He is the author of over 200 abstracts, papers, and book chapters and co-editor of 4 books including "TASER® Conducted Electrical Weapons: Physiology, Pathology and Law" and "Atlas of Conducted Electrical Weapon Wounds and Forensic Analysis." Mark frequently serves as an expert witness in use-of-force litigation and also sits on the Axon scientific and corporate board.
Email Mark at mark@kroll.name.

Request product info from top Police TASER companies
Thank You!