Bounce Imaging unveils throwable 360 degree camera for situational awareness
Panoramic views of dark or tight spaces can be viewed instantly by a synced device
---
Bounce Imaging was at the 2014 IACP conference in Orlando, Fla. to show off the Explorer, a small, rugged ball with six cameras that syncs wirelessly to a smartphone or tablet to take photos and document intel in dark, hard-to-reach, or dangerous spaces.
The Explorer is a small, lightweight ball with a shock-absorbing rubber outer shell equipped with cameras for 360 degrees of panoramic visibility, white strobing lights, and near-infrared LEDs to light up dark rooms.
When activated, the ball starts taking photos and a microprocessor inside the ball stiches the photos together and converts the raw data for transmission over Wi-Fi to be instantly viewed by the synced device for situational awareness.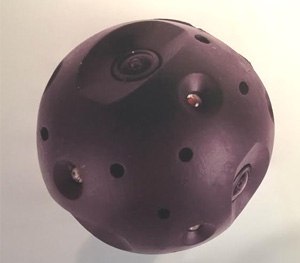 The Explorer can test for methane, carbon monoxide, and dangerously high temperatures, making it applicable for police, military, and firefighters.
Creator Francisco Aguilar said the Explorer is currently being beta-tested by law enforcement agencies around New England and is being preordered for shipments in the first quarter of 2015.
"They [police] keep finding creative ways to break it, so we keep finding ways to make it more durable," said Aguilar. The Explorer is currently undergoing tests to withstand a seven-foot drop onto concrete.
One piece of feedback from law enforcement that Bounce Imaging is working to implement now is a pause button so that officers watching the images from the synced device can stop at a certain frame to examine something. 
For more information, visit http://bounceimaging.com/home/