Drug threats impacting police officers in 2019
What can officers do to protect themselves while investigating drug-related crimes?
---
The opioid epidemic that started 10 years ago has unleashed new drugs that are causing a significant safety threat to America's law enforcement officers. To add to that risk, more states are legalizing marijuana, which has allowed entrepreneurs to produce more potent strains of marijuana than seen in past years.
What about safety concerns regarding the reagents we use to test those drugs? When you look at the material safety data sheet for some of the side effect of these reagents you see burning on contact with skin, chronic irritation of eyes and ulceration of the intestinal tract if swallowed. When you test drugs using these kits, you have more than likely seen vapors leave the pouch after breaking the ampules. What makes you think those vapors won't hurt you? I have yet to see one police officer or evidence tech wear eye protection or an N95 mask or better when doing these tests. Why do we ignore these basic safety principles?
I'm not asking you to stop enforcing drug laws. But I think we do need to change the way we protect ourselves when doing narcotic investigations.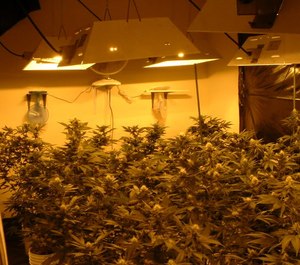 So, what are the biggest drug threats in the United States right now, and what can we do to protect ourselves while we investigate these crimes?
Controlled Prescription Drugs (CPDs)
CPDs are the leading cause of drug-induced deaths in the United States and are the second most abused class of drugs. These include drugs like oxycodone, hydrocodone and alprazolam. Many officers feel comfortable handling CPDs because they are made by a pharmaceutical company overseen by the FDA and packaged in a pill bottle or blister pack. But is it really a pharmaceutical made by reputable company?
Much of the Xanax recovered in some jurisdictions isn't really Xanax, it is a pill manufactured by an unscrupulous drug dealer. The drug dealer will purchase Xanax powder from a source on the open internet or through the dark web. Next, they will take that powder and press it into a pill via a pill press they also bought on the internet. The pill will have proper Xanax markings because the dealer bought a Xanax pill press die on eBay.
But what if the person pressing that Xanax pill put fentanyl or some other more harmful drug into it? It would cause issues for everyone involved in the investigation.
The best practice for collecting any drug evidence is to wear an N95 mask or air purifying respirator, eye protection and nitrile gloves. N95 masks are very cheap and can be bought on Amazon for as little as $13 for a pack of 10.
Marijuana
Marijuana is the most commonly abused drug in the United States. I'm sure more than one person is laughing thinking that marijuana is not a "threat." But is it really that safe for officers to handle without proper PPE? There's a looming chemical threat with marijuana products, aside from other substances being added to marijuana like PCP, methamphetamine, cocaine and MDMA.
A number of marijuana eradication teams in California have come across banned pesticides like carbofuran. Some marijuana growers put these chemicals in the soil and on the plant in an effort to keep animals and pests away from the plants and the grow site. Dr. Mourad Gabriel has been studying grow sites in California and 80% of the grows he has investigated contained chemicals like carbofuran, malathion, carbaryl and other insecticides. These are all highly hazardous to humans. They also propagate through the plant. Many experienced narcotics detectives have seen dead animals surrounding grow sites that died from exposure to these chemicals. A number of officers have also had critical illnesses after being exposed to these chemicals.
In addition to the chemical threat, there is a fungal threat with marijuana. In one study, the aspergillus fungus was found on 11 of 12 marijuana samples. A few years ago, a narcotics detective in Northern California was hospitalized after inhaling aspergillus spores. Sometimes you cannot see the fungus on the plant or the threat that looms.
Many officers handle marijuana with no protection, but with the chemical and fungal threat outlined above and the adulteration of some marijuana by users with PCP and other drugs, it is important to wear an N95 mask or air purifying respirator, eye protection and nitrile gloves while handling marijuana.
Novel Psychoactive Substances (NPS)
NPS are defined as psychoactive substances that legally mimic the effects of traditional drugs of abuse, such as heroin or cannabinoids, but are not controlled under the Controlled Substances Act (CSA).
Many of these drugs are manufactured in China and then bought over the darknet. As an example, U-47700 (street name Pink) made its way to the United States and was responsible for a number of overdoses. U47700 is a powerful opiate drug that was banned by the DEA. The day after the ban was announced, manufacturers in China were advertising the sale of a new opioid called U-48800. Then U-49900 came to market. Recently an even newer one was release called UF-17.
Recently, I testified before the United States Sentencing Commission on synthetic drugs like these. I profiled a case where a group of narcotics officers all had some form of kidney damage. The officers, who were part of a drug task force targeting synthetic cannabinoid manufacturers, had all tested positive for synthetic cannabinoids. They were wearing hazmat suits when doing conducting evidence collection, but they were still getting the drug in their system.
Most of you won't be taking down a drug lab, but what about small amounts of exposure to these drugs over a long career? To minimize any chance of exposure, officers should wear an N95 mask or air purifying respirator, eye protection and nitrile gloves when doing drug investigations on the street.
Fentanyl and Other Synthetic Opioids
These drugs are typically sourced from countries like Mexico and China and are the deadliest category of opioids in the United States. Currently, traffickers are selling fentanyl without mixing it with any other drug. In the past, traffickers would mix very small amounts of fentanyl with drugs like heroin or cocaine so the amount of fentanyl on the street was minimal. Fentanyl is also being sold in the form of counterfeit prescription pills (as we previously mentioned above). Fentanyl suppliers will continue to experiment with new fentanyl-related substances and adjust supplies in attempts to circumvent new regulations imposed by the United States, China and Mexico.
We've all been bombarded with safety notices about fentanyl. Some of it is hyperbole and some of it is true. The bottom line: To protect yourself, wear an N95 mask or air purifying respirator, eye protection and nitrile gloves when conducting any drug investigation.
Wear an N95 mask or air purifying respirator, eye protection and nitrile gloves
You saw a common theme when reading this article: Use an N95 mask or air purifying respirator, eye protection and nitrile gloves when doing any drug investigation. This isn't everything you should use when doing drug investigations, it is the minimum personal protective equipment (PPE) you should wear. Obviously, if you are investigating a pill mill, drug lab, or major trafficker, your PPE level will increase. But for patrol cops, this should be the gold standard.
Let's put it this way: Have you ever arrested a suspect for drug crimes that smells so bad that you drive to the jail with all of your windows down, in the snow, just to get enough air to drown out that smell? When you bring them to the ER to be medically cleared, you will see the doctor and nurses wearing a mask, gloves and eye protection when they examine your prisoner. All the while, you stand there in your patrol gear and nothing but nitrile gloves on. Why do we do that? The threats have changed with the times. Has your approach changed with them?