Dedrone to debut new drone jammer for urban environments at IACP 2022
The DroneDefender breaks communication links between pilots and unauthorized drones, making them crucial against drone swarms and singular drones
---
By Police1 Staff
Dedrone, a supplier of drone mitigation technology, has announced the launch of its next-generation handheld mitigation system, DedroneDefender.
Completing Dedrone's end-to-end counter-drone solution, DedroneDefender reimagines mitigation technology by delivering a sleek, connected gun for targeted precision Radio Frequency (RF) jamming and provides enhanced situational awareness for the operator.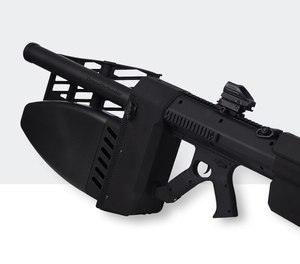 At only 7.5 pounds and just 22 inches long, DedroneDefender is one of the lightest and smallest precision jamming systems available on the market. It comes equipped with narrow-band jamming to minimize disruption to other devices and meets military standard MIL-STD-810H.
DedroneDefender's use of narrow-band or "comb" jamming reduces the risk of interference with other systems in the area like Wi-Fi and is specifically configured to the identified malicious drone's protocols as prescribed by DedroneTracker detection solution. Once communications are interrupted on a drone, it enters a pre-programmed safety mode to minimize risk to others and damage to the drone.   
Check out the DedroneDefender at IACP at booth 5720.

Request product info from top Police Drones/UAS companies
Thank You!