Drone utilization at bomb squad operations
Drones can assist EOD operators in several ways, from searching under suspicious vehicles to detecting audible sounds of explosive devices for analysis
---
By Mark Lang
With the increase of drone use in law enforcement by SWAT teams, traffic units and dedicated drone squads, you might think that the ceiling has been reached for police deployment of drones. That is far from the case.
A new application now emerging is the use of drones by bomb squads or Explosive Ordinance Divisions (EOD). Drones or Unmanned Aerial Systems (UAS) are enhancing how SWAT teams conduct tactical operations and the same may occur during bomb squad operations, as drones can enhance the overall speed at which suspicious items are located and placed under observation.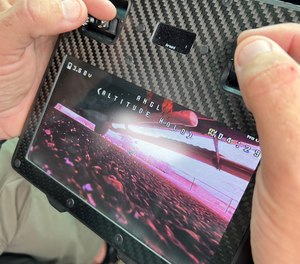 The quick deployment of drones on scene by either a bomb technician certified as a Part 107 pilot or dedicated drone support personnel could be critical in determining the best course of action to take. Let's look at a few of the general applications of current drone technology during an EOD response.
Rapid deployment
Maximizing intelligence received at bomb incidents could improve the overall safety of the incident.
Drones are able to launch and fly to the area of interest and begin immediate information gathering. Purpose-designed drones or "tactical drones" that do not rely on global positioning satellites (GPS) or forced firmware updates can be launched in seconds once on scene. The rapid deployment allows for the drone to get "downrange" to the item, such as a bag, backpack, or vehicle, in a manner that has not been previously available to the bomb squad community.
Drone technology could also enhance the capabilities of the first arriving bomb technician, who could launch the drone, conduct an intel flight, and perch (land) keeping the suspicious device(s) under observation. All of this can be accomplished while viewing video in real-time and recording it.
Some third-party software providers allow streaming from the drone to mobile devices and the command post.  
Intelligence gathering  
Drones can quickly deploy to the suspicious item, vehicle, or area much quicker than a terrestrial robot, and once on scene, can orbit the item and provide real-time feedback.
Drones have high-definition cameras with zoom capabilities that can identify suspicious items for bomb technicians. Perching is a capability that allows the drone to land in a preferred location, shut down propellers and keep the item under observation. Some tactical drones have a built-in two-way capability to communicate and listen just like a cell phone. If the suspicious item is making any type of audible sound this could be detected for analysis.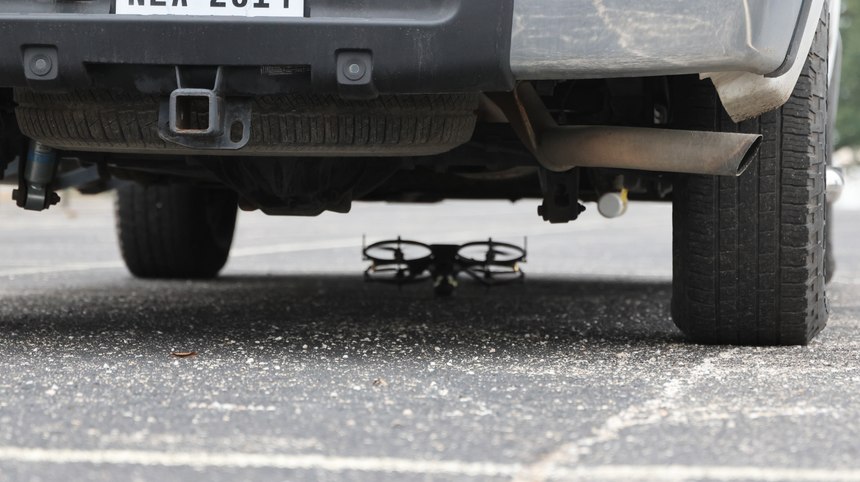 Tactical drone pitching back to look upward at a suspicious device. (Photo/BRINC)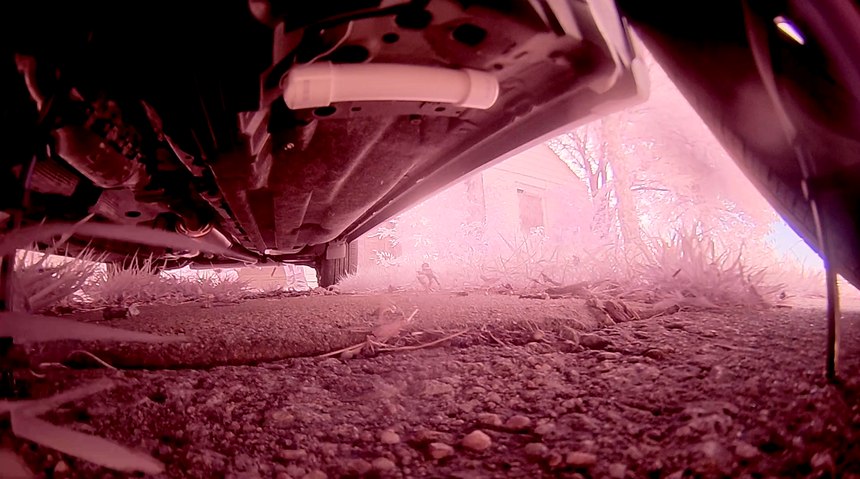 Tactical drone conducting undercarriage search under infrared. (Photo/BRINC)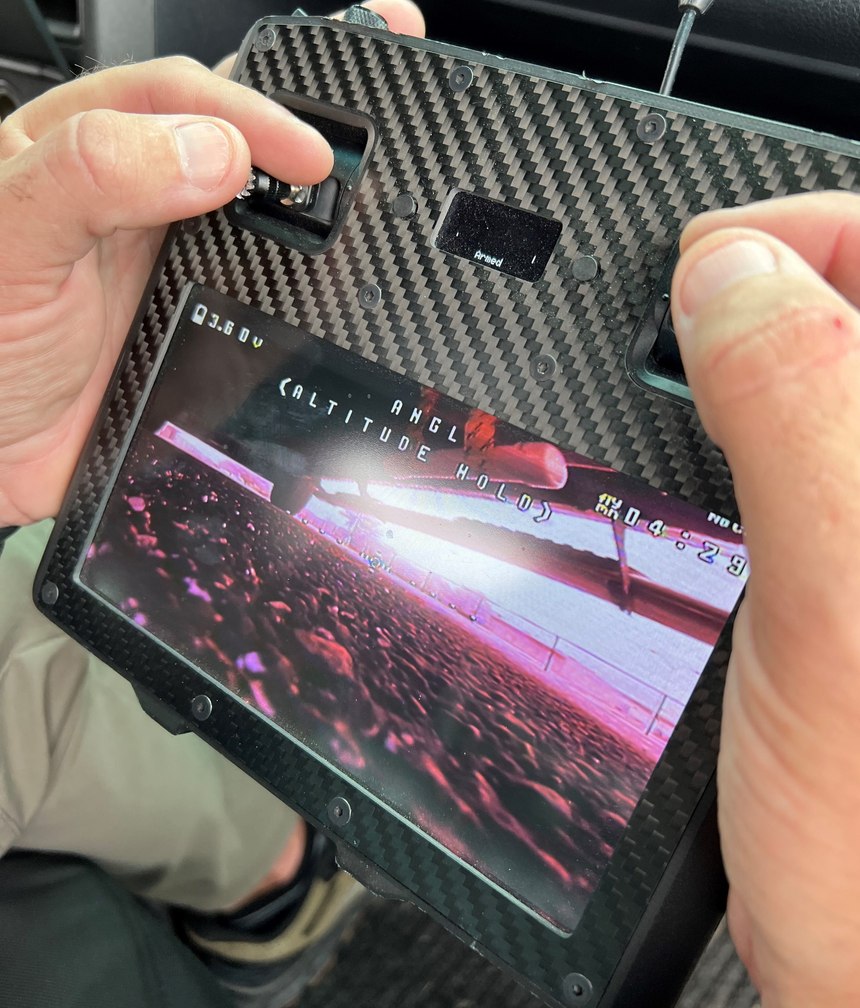 The controller shows a video feed from a tactical drone. (Photo/BRINC)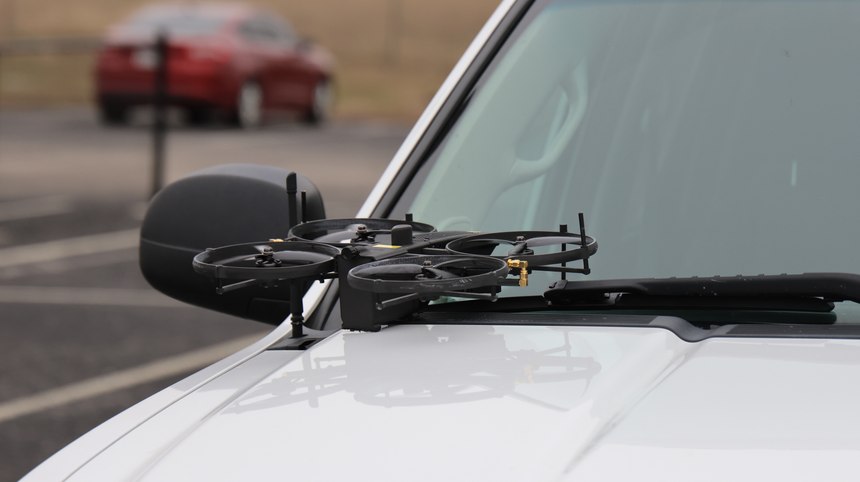 Tactical drone perched on vehicle hood observing inside. (Photo/BRINC)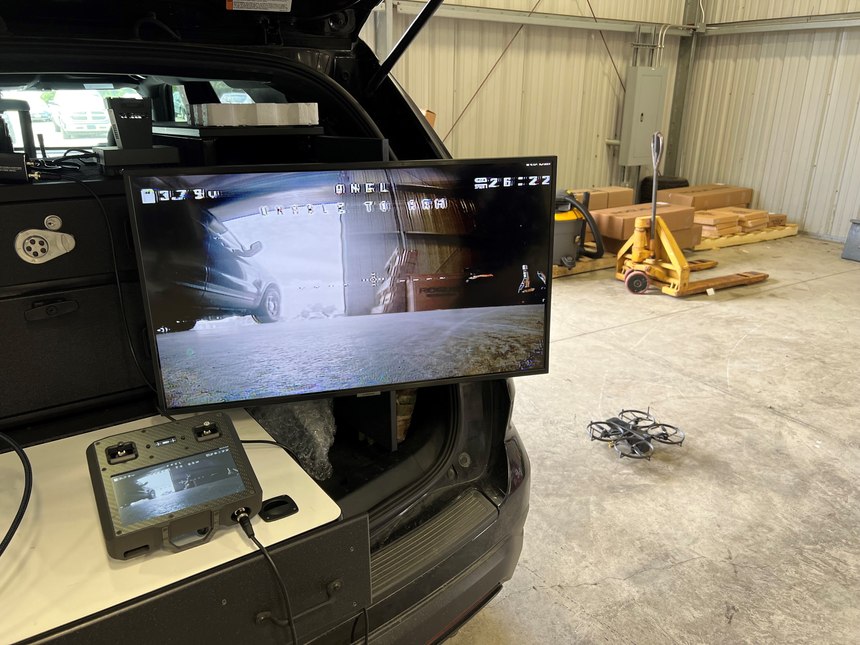 Video feed from a tactical drone is displayed on a larger monitor at the incident command post. (Photo/BRINC)





Undercarriage searching
A bomb callout involving a potential vehicle-borne improvised explosive device (VBIED) could benefit from a tactical drone versed in extreme low flying. Once launched and after a cursory orbit of the suspect vehicle, some tactical drones can hop or drag themselves under even low-sitting vehicles to identify anything suspicious. When locating an object that requires a better look, tactical drones can pitch back allowing for the camera to offer a better angle and even turn 180-360 degrees depending on the surface. The speed and efficiency in searching the undercarriage cannot be overstated. In populated areas where evacuation may or may have not begun this low searching capability could potentially save lives.
Glass breaching
Tactical drones now exist that can breach common auto glass (tempered) using a glass breaker attachment. Once any of the side windows are breached of a suspicious vehicle, the drone can either enter the vehicle or continue to fly on the exterior of the vehicle. This can enhance the overall efficiency of the operation due to the speed at which this tactic can be deployed.  
Nighttime operations
Tactical drones with infrared illuminators provide operators with the ability to see in low light or totally dark environments. In conjunction with a drone's onboard white lights, the infrared illuminators can be enhanced when searching larger areas at bomb scenes.
Thermal imaging can also be a useful tool in locating any heat source or determining if a VBIED was recently driven to the incident location.  
Terrestrial EOD robot
Drone utilization will not replace an EOD robot's role, but rather augment it in the aforementioned areas. There are certain tasks that drones cannot accomplish. EOD robots excel in tasks such as opening or breaching doors. Pairing tactical drones with EOD robots and working in tandem on scene could prove to be a best practice moving forward for bomb teams.
Training
With a new specialty for bomb technicians such as operating a drone comes additional training. For bomb calls occurring in the national airspace, local bomb technicians acting for their law enforcement agency may want to explore operating under an FAA COA (Certificate of Authorization) or obtaining a Remote Pilot's License (Part 107). Their federal counterparts may also have other avenues for use at bomb scenes.   
Conclusion
The day may come in the not-so-distant future when bomb technicians are assigned their own drones to deploy on scene. Giving bomb technicians another tool to use during incidents further enhances the efficiency and overall safety of everyone involved. As drone technology continues to advance with new ideas and engineering capabilities, it will become firmly supplanted as an additional tool for bomb technicians with the goal of saving lives. 
NEXT: How to maximize the capabilities of SWAT drones
---
About the author
Mark Lang retired from the Dallas Police Department after a 30-year career with 23 years spent in SWAT. Mark assisted in developing the Tactical Bomb Technician (TBT) program with Dallas SWAT & EOS and promoted increased training with bomb technicians internally and externally. He is currently a drone trainer for BRINC drones, which specializes in drones and other technology enhancing first responder safety.