NYPD adding 14 drones to its force
The New York Police Department will train 29 officers to operate its fleet of UAS
---
By Police1 Staff
NEW YORK - The New York City Police Department added a fleet of drones to its force on Tuesday.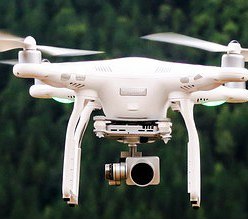 According to USA Today, 14 drones will be used by 29 licensed NYPD officers in the Technical Assistance Response Unit. The drones will be used for many tasks including monitoring traffic and pedestrians at large events, search and rescue operations, crime scene operations and "other emergency situations" with proper approval.
"Drone technology will give our cops and their incident commanders an opportunity to see what they're getting into before they go into harm's way," Chief of Department Terence A. Monahan said at a press conference. "For this reason alone, it would be negligent for us not to use this technology."
 
He added the drones will not be used for warrantless surveillance, though critics have expressed concerns about NYPD acquiring and deploying the drones. Some worry existing policy will not prevent police from misusing the devices.
 
Two of the drones are weather-resistant quadcopters with zoom-in cameras and thermal capabilities. Eleven smaller drones will be used for tactical operations, and another will be used for training and testing purposes.
 
NYPD says the drones will not be used for routine patrol or traffic enforcement. They also will never be equipped with weapons or used as a weapon.
 
The Center for the Study of the Drone at Bard College notes that more than 900 law enforcement agencies have deployed drones, to date.

Request product info from top Police Drones/UAS companies
Thank You!