NYPD robot dog, drones assist first responders in NYC parking garage collapse response
"If we didn't have that robotic dog, we would have placed firefighters in jeopardy," said NYC Mayor Eric Adams
---
By Sarah Roebuck
Police1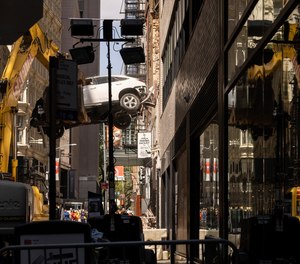 NEW YORK — When areas of a collapsed parking structure proved to be unsafe for first responders, a robotic dog and drones were deployed to help with the response. 
On Tuesday, a parking garage collapsed in New York City, killing one worker and injuring five people.
The robotic dog was able to enter the collapsed structure and go into areas where it was unsafe for first responders, WBAL reported.
As the robot dog made its way into the rubble, it provided information to first responders about the condition of the structure. 
New York City Mayor Eric Adams said the body of the man killed in the collapse was discovered by the robotic dog, which was deployed by the New York City Fire Department.  
"We did not want to send people inside there. We couldn't even send a cadaver dog in there, because that cadaver dog would have gone in there and could have potentially had a collapse and harmed someone," Adams said during a news conference. 
Just last week, New York City officials unveiled three new high-tech policing devices, including a robotic dog that was first leased in 2020. The city's contract for the device was cut short after critics ridiculed it as creepy and dystopian, the Associated Press reported. 
"If we didn't have that robotic dog, we would have placed those firefighters in jeopardy," Adams said.
The robotic dog wasn't the only new technology used to aid in the rescue — drones provided a birds-eye view of the collapsed structure. 
"They're able to stream the video directly to our phones, to our command center and this is the first time we've been able to fly inside in a collapse to do this and get the information," FDNY Chief of Fire Operations John Esposito said to WBAL.
An investigation into the cause of the collapse is ongoing. 

Request product info from top Police Drones/UAS companies
Thank You!