Could Nextdoor replace Facebook for police?
Unlike popular social media platforms like Facebook or Twitter, Nextdoor is a virtual neighborhood watch social media platform for specific neighborhoods
---
Many agencies are using Facebook for their departments as a way to reach out to their communities. From the publishing of press releases and crime prevention tips, to public relations photos and stories, many departments have enjoyed great success with the most popular social media platform.
Law enforcement social media managers who are staying on top of the trends and day-to-day changes with Facebook also realize that the amount of people actually receiving their messages can be as low as six percent. There are many reasons for this, but the primary ones are: Paid advertisements or posts targeting your area or residents by businesses will trump your posts, and anything that is generating higher engagement numbers will also take precedence over your posts. The bottom line is, if you aren't paying Facebook, or your posts are not considered interesting enough, your followers might not see them.
Depending on the goals of your department and your social media team, Nextdoor just might be the option you need to ensure your messages are being received by your community.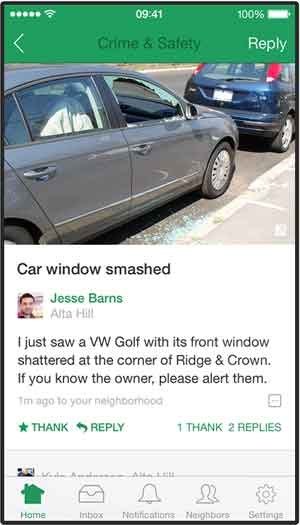 1. No Public Fear About 'Big-Brother'
Communities love Nextdoor because they can discuss freely whatever is going on in their neighborhood. Since the platform only allows members of a particular area to speak with each other, residents don't have to worry about a thief, who lives on the other side of town, reading their posts. In fact, the only way a person can join a particular neighborhood is through a special code sent to their address, which has to be in that area. 
Another reason people like Nextdoor is the fact that law enforcement can't read what they're discussing, unless they're discussing it on a post published by law enforcement. For example, if you as a law enforcement entity published an alert for a particular area about car thefts, and people commented on your post, then you could see it. However, if someone started his or her own new post about the thefts, you wouldn't see it.
2. Why Administrators Might Prefer Nextdoor
For some administrators, they know social media has benefits, but it'sanother thing they have to watch over. There are some law enforcement agencies that have become involved in lawsuits over the management of their Facebook pages. The suits mainly are about them removing posts or banning users, and those users claiming a violation of their civil rights.
With Nextdoor, the typical troll (person who purposely harasses others on social media for no value other than to gain attention and create commotion) has a very limited audience. In fact, his or her audience is literally limited to those in his particular area, which means they really don't get a great platform to say negative things about your agency. 
3. No Widespread Panic or Speculation
As we've watched events unfold across our nation — for example, following the Michael Brown shooting — law enforcement has found that the majority of trouble-makers aren't even from the particular area where the incident occurred. In fact, many of those arrested in Ferguson didn't even live in Ferguson.
As a law enforcement agency, you don't need people from another community, city or state weighing in on an issue occurring in a certain portion of your community. When you publish information on Nextdoor, you distribute it to the particular areas you feel should have the information. 
For example, if you have potential mudslides which are going to affect residential areas near the base of some hills or mountains, you can send messages only to those affected areas. This is great for limiting speculation and panic from those not located in the affected areas. On a security level, in the event evacuations were ordered, only those in the affected areas would be notified, and not the criminals just yearning to hear homes have been left unattended.
4. Many Extra Sets of Eyes Searching for Your Suspect
When thieves are targeting a neighborhood, there's nothing more gratifying to some residents than to help catch that thief in the act. How many retired or elderly residents live in a neighborhood with nothing to do but help the cops? 
If they've been shown a photo of who you're looking for in their neighborhood, trust me, they'll be searching for that person until the end of time. So why not embrace this help by posting that photo or information on Nextdoor?
One Caveat: Can Niche Social Media Really Work?
I would be remiss if I didn't make you aware of one issue with Nextdoor. Our society is suffering from an overload of all sorts. Information overload, technological overload, and work overload, to name just a few. Adding one more social media account to someone's list of ways to be contacted just might not work. 
At my agency, I know several of our followers only use Twitter, and refuse to use Facebook. They might like Instagram, and refuse to use anything else. Some people can't stand email, to which newsletters won't work.
Take this into consideration when getting involved in Nextdoor. Understand it might be slow to get your community on board, and it might take a little work on your part to get Nextdoor moving in your community. 
Now that you've heard a little about the Nextdoor social media platform, click here to learn more about this great tool being embraced by communities across the United States.

Request product info from top Police Technology companies
Thank You!