Overcoming the 5 barriers to joint response planning
From making sure everyone is on the same page to establishing written procedures here's how fire and police agencies can plan for joint response more effectively
---
Content provided by CentralSquare Technologies via GovThink.com 
By Steve Seoane for Police1 BrandFocus  
When 911 is dialed, the caller hopes the nearest available responder will answer – people in need of immediate help aren't concerned with which agency responds. However, this is frequently not the case when it comes to public safety and the current constraints of jurisdictions and response plans. So, in order to serve citizens in need and respond quickly and effectively to an emergency, public safety needs to be able to execute a seamless mutual response plan unlimited by jurisdictional boundaries.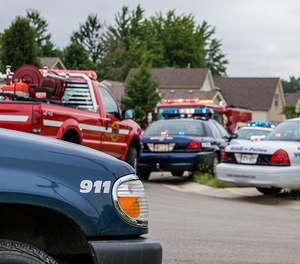 Here are the 5 most common barriers to joint response planning and how public safety agencies can overcome them:
Barrier 1: Say what now?
One of the first steps to successfully initiating joint response plans is to ensure everyone is using the same terminology to describe assets. When considering a mutual aid response strategy, agencies who have standardized their asset descriptions will be able to successfully deploy the appropriate apparatus as determined by the incident. Just as you wouldn't want to be handed an apple when expecting an orange, you don't want an engine showing up when you need a tanker.
Barrier 2: Guesswork leads to more work
Developing regional policies and procedures helps take the guesswork out of on-scene activities. If all the departments in your area operate in the same manner, then the first-in unit can begin immediate life-saving measures with full confidence that the next unit knows how to help. Written procedures allow all departments to review consistent processes and helps set the same priorities based upon the type of call.
Barrier 3: Not knowing the "no-brainers"
As good as intentions may be, response specific strategies often leave gaps in inappropriate action tactics. Clear communication between law and fire is necessary so that an already dire incident isn't made even worse. While the first priority is always to preserve and save a life, often something overlooked, such as a poorly parked asset blocking roadway or hydrant access, can severely compromise operational success. Shared expectations between public safety agencies, defined and deployed as a standard plan, prevent such conflicts and impediments from occurring.
Barrier 4: Hello, what's your name again…?
Multi-company (fire) and multi-agency (law) training exercises are valuable for many reasons. Beginning with introductions between personnel allows confidence in capabilities and provides comfort, relieving the potential for added anxiety during incidents that are already high stress. Multi-service training also provides the opportunity to define regional policies and procedures into practice, and the opportunity to identify conflicts previously missed or unaddressed.
Barrier 5: Attitude is everything
The most important ingredient to a successful joint response plan is ensuring everyone is a willing participant. The best-laid plans are only words on paper if the department's culture does not fully embrace the plan. Chief administrators must ensure that field personnel are not only talking the talk in the stations but are also walking the walk when they're faced with responding to mutual aid emergency operations.
Overcoming these five common barriers to efficient emergency mutual aid response is critical. Because when agencies can overcome the perception that joint response "won't work in our area," everyone wins – the citizens, the first responders and the community.

Request information from CentralSquare Technologies
Thank You!