The talking computers of childhood dreams, but for grown-up cops
Our reviewer puts two Dell rugged computers to the test to see if speed, reliability, and readability and compatibility matter in the field
---
By Victor Masters for Police1 BrandFocus
I remember as a kid in the 1980s in New York my school D.A.R.E. deputy, Deputy Ferrari, showed my class the inside of his patrol vehicle. It was a day that the entire class had been looking forward to. I expected to see all sorts of blinking lights, gadgets and other toys similar to the Batmobile or K.I.I.T. from Knight Rider, along with some high-speed computer that talked to me. Instead, all I saw was a bland, large metal box that housed the car radio and a metal divider. No computer, no blinking lights, no cool switches.
Fast forward to 2022 and I'm in my second decade on the job sitting in my very own patrol car aka my mobile office. It has a computer terminal, in-car WiFi system, barcode scanner, headrest printer, dash camera, radio, PA system, emergency equipment and so much more. But the centerpiece of my mobile office is my Dell computer terminal. My childhood dream of having my very own police car with a computer that talks to me is complete!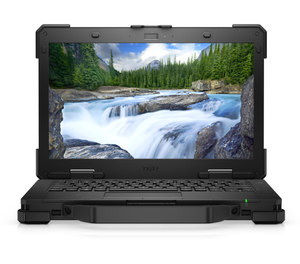 While having a computer with a computer-aided dispatch (CAD) program that talks to me is cool, I quickly learned that having a reliable, fast computer with a display that I can actually read in the glaring sun or dark of night is even more important.
In my first few years on the job, I struggled with my Crown Vic's computer. It wouldn't start properly half the time, or it would constantly lock me out (try finding an IT department employee at 2 a.m. to fix a computer issue). My computer would always freeze on me at the worst possible times and the "touchscreen" was rarely functional, constantly slathered in grease from my partner's french fry habit.
In the summer, it would shut itself down to "cool off" if it became too hot which seemed to be a temperature of barely 70 F. One night, my partner was kind enough to dump his entire cup of coffee onto the keyboard after responding to a priority call, resulting in the motherboard being fried.
Needless to say, it was rare to make it through an entire 12-hour shift with a computer that functioned the entirety of the shift.
Modernizing the way we work
Technology has improved vastly since then and companies like Dell have recognized these frustrations and harnessed them to create rugged computers specifically designed to handle the rigors of our law enforcement environment.
The Dell Latitude Rugged 5430 and Rugged Extreme 7330 are both designed with law enforcement in mind. Both computers were put through the paces by Dell to meet the rigorous demands of law enforcement. As cops, we really like to be hard on our equipment and somehow constantly manage to break things.
Dell tested both laptops thoroughly by dropping them repeatedly and rapidly changing the temperature from one extreme to another making them capable of going from minus 20 F to 145 F with ease. Additional tests exposing them to salt fog, sand, dust, vibrations, altitude variations and more, all to test the durability of these laptops resulted in stellar pass ratings. Dell tested these laptops thoroughly so that we can start our shifts knowing that our laptops will function properly day in and day out.
Dell laptops improve speed and efficiency for officers
The speed of the Dell Latitude and Rugged Extreme is astonishing to say the least. The laptops start almost immediately and allow the user to quickly login and hit the road without needing to waste valuable time waiting for the systems to startup. If you've ever been logging in when a "Shots fired. Priority Response" call comes in, you know exactly how frustrating it can be when your computer can't keep up with your high-speed environment.
Once logged in, the super-bright screen of the Dell laptops allows you to clearly see and read in even the brightest of environments. Those on nightshift will have no issue turning down the brightness to a level low enough to be easy on the eyes but still provides an easy-to-read screen. As we often find ourselves gloved up, the glove-enabled touch screen is sensitive enough to allow a gloved user to easily navigate the menus. Accessing the internet is also a breeze with the FirstNet capable 5G communication systems.
Laptops for patrol and beyond
Both the Dell Latitude Rugged and Latitude Rugged Extreme are suitable not just for patrol use, but also for investigators, evidence technicians and command staff. With a plethora of I/O ports available, investigators can easily plug in their electronic evidence-gathering devices and storage devices to their Dell laptop to quickly capture and store evidence. The rugged handle on both models also provides investigators and command staff with an all-in-one lightweight portable office that they can bring to and from their offices and out into the field thanks to the durability of both models.
Think outside of the box
Outside of your police department, the Dell Latitude and Rugged laptops are the perfect all-in-one system for your in-house mechanic shops, fire department, medics and parks employees that also work in extreme environments. As most government agencies already use Dell systems, your IT department is likely already familiar with Dell tools, resources and client systems available to them. Dell stands by their product and offers next business day on-site repair if required to minimize system downtime.
Technology is constantly evolving as is the way we train, work and go about our duties. The Dell Latitude Rugged and Latitude Rugged Extreme are two pieces of the technological puzzle that provide us with the opportunity to spend more time actually doing our jobs, and less time trying to troubleshoot and fix computer-related issues.
Visit Dell Technologies for more information about their rugged computers for law enforcement.
About the author
Victor Masters is an active-duty police officer for a municipal police department in western Washington. He began his career in 2010 with the U.S. Border Patrol in El Centro, California. He has served as a patrol officer, forensic artist, intelligence agent and public affairs agent. Since 2016, he has been assigned as a public information officer and recruiter.
Read next: Why law enforcement should switch to rugged laptops

Request information from Dell
Thank You!