Baltimore PD adds Xora GPS tracking to 'Side Partner'
Xora's mobile workforce management solution lets dispatchers and supervisors see the exact GPS location of every one of its more than 2,000 sworn law enforcers
---
The Baltimore Police Department (BPD) — which patrols an area of more than 92 square miles and serves to protect a community of more than 641,000 citizens — is the eighth-largest municipal police force in the United States. The PD has nine police districts, each of which is divided into multiple sectors. Needless to say, there are a lot of moving parts to keep track of, and to do so more effectively, the PD has turned to a technology company called Xora (pronounced "Zorah"). Simply put, Xora's technology, which can be accessed from any Internet-connected computer, enables dispatchers and supervisors to keep track of the exact GPS location of every one of its more than 2,000 sworn law enforcers.
I can hear you now. "Wait, this thing tracks my every move? That sounds an awful lot like a Big Brother thing."
That perception — and its attendant criticisms — have a legitimate place in the discussion, but the reality of what Xora can do is much, much more complex — and potentially a huge benefit to officer safety and success on the street.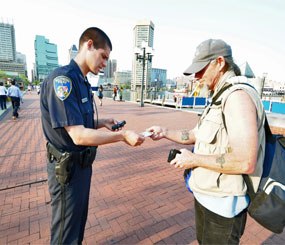 The Big Picture
The Xora mobile field force management system is part of a project BPD calls Side Partner — which bundles InterAct PocketCop (on which BPD cops run warrants, check license plates, and whatnot) and Xora's GPS Field Management System onto department-issued BlackBerry Curve smartphones. Side Partner itself is part of larger mobile strategy at the Baltimore Police Department to help officers be more productive away from their patrol cars. The program is considered by the people at BlackBerry to be sufficiently innovative that the BPD team recently received the prestigious BlackBerry Wireless Leadership Award in the Government category.
In the area on the BlackBerry website dedicated to those awards, Dr. Gayle Guilford, Director of MIS for Baltimore Police Department, was quoted as saying, "Side Partner and the BlackBerry smartphone helps us achieve what our police commissioner wanted — more officers out of cars and into the community, interacting with people on the street in a way that's both safe and with the information they need."
Enhancing Officer Safety
"The commissioner wanted officers out of the car and in the community," Director Guilford told Police1 when we caught up with her to learn more. "As such, commanders need a way to see where officers are deployed and where to re-deploy if warranted. The GPS mapping solution allows command staff and dispatchers to know where an officer is located. If an officer needs help, the dispatcher can view the map and determine the location of the officer."
Xora relays the GPS coordinates from each officer's BlackBerry to a desktop map, where dispatchers and commanders back at the PD can quickly view the locations of all the officers at an event or within a particular area. This ability has been especially helpful in crowd situations, making it much easier and faster to pinpoint officer locations. When many officers are stationed in a crowded area, it can be difficult for dispatchers to find and deploy them quickly. The Xora GPS data also gives administration a better historical picture of how officers are deployed in each sector and district. This makes for much more accurate analysis and reporting, which ultimately — well, hopefully — results in better decision making on future deployment.
Director Guilford tells Police1 that for her PD, one such example was Independence Day last year. "During the celebration, at the Inner Harbor, an incident occurred. Officers ran to the incident, however the GPS Mapping solution brought to light how long it took officers to get back to their assigned posts after the incident. As a result, deployment can be based on sending specific units and verifying [the deployment] afterward — historically — if the assignments were correct."
Likewise, supervisors need to be able to monitor the amount of time it takes for officers to respond to an incident and then return to their previously-held positions. Location data presented by Xora enables dispatchers and supervisors to address these issues so they can make faster and smarter decisions regarding the use of field officer resources.
Cloud Computing
As much as administrators liked the look, touch, and feel of Xora, they were happier still at the "hosted" nature of the application. This is, in geek-speak, a cloud computing solution, ensuring that there is nothing special to install on the department's computers. Employees with the appropriate approval clearances — specifically, police commanders, department dispatchers, and the police commissioner — can the can access information collected by Xora from any computer with an Internet connection.
Also known as the software as a service (SaaS) model, this type of technology makes it simple and cost-effective for the deployment and upkeep of technology solutions. With SaaS software, updates are made automatically (no downloading new software to the computer, and no "Upgrade Hiccups" commonly associated with those downloads. Other well-known cloud computing solutions are things like Google Maps, and Google Earth, both of which have proven to have excellent uses in law enforcement.
Lessons Learned
Director Guilford offers some advice for other agencies considering the deployment of this technology. "From day one, involve [the] union to over come the 'Big Brother is watching' complaint."
Guilford lists three key things to consider in the deployment of an LE Xora solution:
1.) Test a tool such as an iPad or tablet to view maps in the field
2.) Train investigative units such as internal affairs and remind them that subpoenas are still needed even though the data belongs to the agency
3.) Require commands to use mapping history in deployment and historical review of crime history
Has your PD deployed a GPS location-based services solution? Sound off in the comments area below, or send us an email.

Request product info from top Police Mobile Data companies
Thank You!