Cops, houses of worship come together to use safety and security planning app
SHOW, released in October 2016, helps houses of worship develop a safety and security plan tailored to their specific needs
---
This article is taken from the January 2018 issue of eTechBeat, published by the Justice Technology Information Center, a component of the National Law Enforcement and Corrections Technology Center System, a program of the National Institute of Justice, (800) 248-2742.
By Becky Lewis
TechBeat Magazine 
A man fleeing an armed bail bondsman, running into the midst of a worship service. Individuals passed out on church grounds, apparently from opioid overdose. A playground portable toilet catching fire, a supposed act of arson.
Headlines about houses of worship (HOW) from around the country? No, all of those incidents happened at HOW in or near the city of Frederick, Maryland, where some 70 representatives of local faith communities gathered on a quiet fall morning in 2017 to learn about the Safeguarding Houses of Worship (SHOW) app developed by the Justice Technology Information Center (JTIC). JTIC is a component of the National Law Enforcement and Corrections Technology Center System (NLECTC), a program of the National Institute of Justice (NIJ).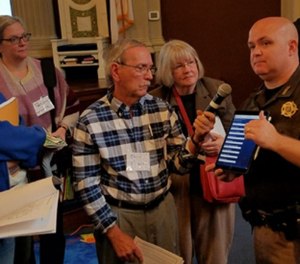 How the SHOW app works
SHOW, released in October 2016, helps houses of worship develop a safety and security plan tailored to their specific needs. Produced with NIJ funding, SHOW is available only to law enforcement agencies, which in turn share download codes with HOW in their jurisdiction.
Agencies that have become involved in spreading the word about SHOW have found training sessions like the one in Frederick to be an extremely effective way of sharing the information. When the overview presentation ended, nearly everyone in the room clustered around Frederick County Deputy Sheriff Hal Jones to view an up-close demonstration of the app's capabilities and get a download code.
"The SHOW app provides something for us to give to the faith-based community to work with in preparing themselves," says Lt. Mark Landahl, Homeland Security Commander for the Frederick County Sheriff's Office. "Too often, other processes are law enforcement-centric and do not result in a shared product. With SHOW, the shared nature of the process and the intuitive design of the app allow the faith-based community to work through the processes themselves with law enforcement and other emergency services providers as support resources. It provides ownership and support to organizations seeking to prepare themselves for emergencies ranging from routine medical events to serious active threats."
SHOW APP assists houses of worship prepare for different emergencies
Although SHOW provides guidance in planning for active threats, it doesn't stop there, assisting houses of worship in planning for weather events and what Landahl termed "traditional emergencies," such as missing children and medical incidents. The app encourages HOW to take inventory of the resources available in the faith-based community; plan what to do before, during and after an event; and to hold drills to practice their plans.
"Houses of worship face a challenge in that they have a mission to be open and welcoming, but they have to balance this with a need for safety and security," Landahl says. He also encouraged attendees to be aware of other resources such as CPR and first aid training, overdose response training, and training for the general public on dealing with an active threat, which may be available online or through a local law enforcement agency.
Pastor Barbara Kershner Daniel, senior pastor of Frederick United Evangelical Reformed Church of Christ, which hosted the event, says that she thought her congregation was well prepared, but after seeing the presentation, she realized her congregation of 400 still has some planning to do.
"We do have a plan for health emergencies and one for missing children, but we need to do much more," she says. "We need to be thoughtful and intentional about our planning and also informing the congregation of our plans in case of an emergency. At the presentation, we also realized being prepared doesn't mean we have to give up on our faith values and our outreach to the community."
Jamea Gouker, administrator at MorningStar Family Church in Thurmont, was among the attendees at the event who later expressed interest in using the SHOW app.
"I've been telling our pastor we need to be aware and we need to think about situational awareness," says Gouker, formerly a member of the Army's Special Forces Command. "I've taken several online workshops and trainings, because of all the events happening in churches that you hear about on the news. It's unfortunate, but in this day and age, you always need to be prepared, and the app will be a good way to tie all the pieces I've already created together."
Although all of the HOW representatives in attendance, like Kershner Daniel and Gouker, were enough aware of the need to attend the event, not one had actually begun to develop a plan. Now, with assistance from SHOW and the Frederick County Sheriff's Office, most are already well on their way.
For more information on the Safeguarding Houses of Worship app and how law enforcement agencies can become involved in working with HOW in their jurisdictions to promote safety and security planning, visit JUSTNET, the website of the NLECTC System, at https://www.justnet.org/resources/Houses_of_Worship.html.

Request product info from top Police Software companies
Thank You!