PRESS RELEASE
MARK43 launches new advisory services to help law enforcement address the toughest public safety challenges
---
Led by nationally recognized public safety expert Ganesha Martin, Mark43 Advisory Services will provide strategic counsel and proven best practices on issues like violence reduction, public safety transformation efforts, and risk mitigation strategies
New York– Today, Mark43, the leading cloud-native public safety technology company, announced a new suite of consultative services to help law enforcement agencies and jurisdictions across the country reach their strategic and operational goals. 
This new offering is led by Mark43 Vice President Ganesha Martin, an executive and thought leader who has held senior roles within the Baltimore Police Department, as well as the Baltimore Mayor's Office. In Baltimore, Ms. Martin developed and implemented compliance and risk mitigation strategies, crime and violence reduction plans and legislative priorities, as well as spearheaded critical efforts to transform community and police relations.
"I'm thrilled to announce this new offering which will be a real game changer for our current and future customers and build on my work over the last decade, providing strategic direction and solutions for some of our nation's leading police departments," said Ganesha Martin, Mark43's Vice President of Advisory Services, Public Policy and Community Affairs. "Real solutions can't just be an add-on, they need to be integrated into the ethos of policing. Whether an agency is heading towards a consent decree, facing sweeping legislative reforms or lacks the technology, tools, and knowledge to properly collect, analyze, and share critical data with their communities, we will support our partners every step of the way in charting a better path forward."
Mark43's Advisory Services team will provide thoughtful, evidence-based, and data-informed support to jurisdictions, public safety agencies, and communities. The Advisory Services team works closely with agencies to identify their challenges and goals, and design tailored solutions to directly address their needs. With a comprehensive understanding of the importance of providing sustainable and community-oriented solutions that encompass both near-term results as well as longer-term initiatives, Mark43 Advisory Services will deliver a suite of actionable plans to most effectively meet agency objectives.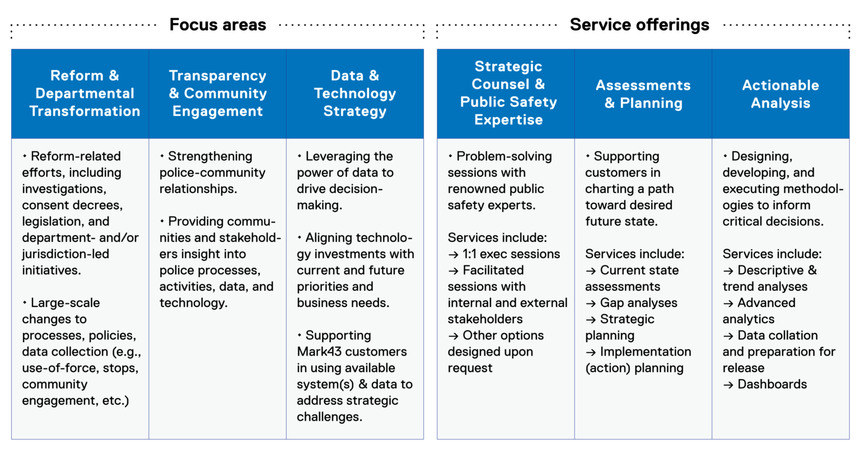 Key leaders:
Ganesha Martin, VP Public Policy & Community Affairs
Ganesha Martin is an executive legal thought leader committed to improving the culture of public safety across the country for the  betterment of our communities and those who protect and serve. From senior roles within the Baltimore City Police Department to the Mayor's Office, she has leveraged her positions to develop and implement compliance and risk mitigation strategies, crime and violence reduction plans and legislative priorities, and to transform community and police relations. If her time with the Baltimore Police Department taught her anything, it was that accountability leads to trust, and trust leads to solutions. It was through this lens that she joined Mark43, where she currently serves as VP of Community Affairs and Public Policy. Ganesha strongly believes in the universal human potential for rehabilitation, and that we can bridge any insurmountable divide with the right people at the table.
Heidi Fieselmann, Senior Data & Strategy Manager
Heidi Fieselmann brings more than ten years of experience leading teams to drive data- and evidence-informed change and innovation in the public safety, criminal justice, and homeland security space. Prior to joining Mark43, Heidi served as the Special Assistant to the Chief of Police for the Metropolitan Police Department in Washington, DC. In this role, she managed the Chief of Police's executive project portfolio focused on workforce, technology, data and analytical infrastructure, process improvements, and evaluation. Heidi is a problem-solver and trusted advisor with extensive experience in project and program management, strategic planning, and managing people and teams to meet collective goals.
Mark43 is the leading cloud-native public safety technology company. By delivering a modern, intuitive and mobile-first Records Management System, Computer-Aided Dispatch and Analytics platform, Mark43 empowers governments and their communities to improve the safety and quality of life for all. With more than 120 local, state and federal public safety agencies, Mark43 is transforming how first responders use technology to respond, engage and serve the community. Mark43 provides the tools, resources, expertise, and security foundation that public safety needs today, tomorrow, and beyond. For more information or to request a demo, visit www.mark43.com.

Request more info from Mark43
Thank You!