Cloud-Based computer aided dispatch system, Mercury, unveiled for first responders
---
First CAD System Hosted by Amazon Web Services Set to Completely Overhaul Emergency Communications Software
Today, Mark43, released Mercury, the first ever computer aided dispatch (CAD) system to be hosted in the Amazon Web Services (AWS) GovCloud (US) Region. Mark43, also a developer of a cloud-based police records management system, is set to deploy Mercury in California, New Jersey, and otherstates, offering first responders a modern platform for managing emergency calls.
"Mercury is a game changer for every agency that has ever dealt with system crashes and downtime. First responders depend on reliable and secure dispatch systems to carry out their jobs in the safest and most efficient manner possible," said Scott Crouch, Co-Founder and CEO of Mark43. "This announcement is about elevating first responders' technology stack into the 21st century."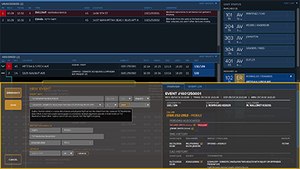 Cloud technology will also usher in a new wave of seamless product upgrades, where traditional systems have often gone unchanged for years. The first release of Mercury will feature a real-time, bidirectional exchange of information with records management systems. For example, when a dispatcher adds a location into the CAD system, they will be able to view all prior police reports at that location. Further, Mercury adds in-app chat capabilities between dispatchers and first responders during an event, helping prevent radio gridlock and encouraging more frequent status updates.
Unveiled at the International Association of Chiefs of Police Conference in San Diego, Mercury will first be implemented at law enforcement agencies already using Mark43's software, such as Camden County Police Department in New Jersey. In the near future, Mercury will also serve multi-agency emergency operations centers, such as the South Bay Regional Public Communications Authority, which represents several police, fire, and EMS agencies in Los Angeles County, California.
"Mark43 is helping modernize technology for our first responder and law enforcement communities through their cloud-based Mercury platform," said Teresa Carlson, VP of Worldwide Public Sector at Amazon Web Services, Inc. "We look forward to working with Mark43 to help law enforcement benefit from the agility, security, and reliability of the AWS Cloud. AWS is proud to help provide our first responders with the tools they need to focus on their mission of protecting our nation's citizens."
AWS, an industry leading cloud provider for public and private sector technologies, complies with the FBI's Criminal Justice Information Services Division (CJIS) security standard. AWS' flexible, secure, and reliable infrastructure is currently moving public safety data to the cloud in areas around the country. Mercury will be an official AWS Partner Network (APN) Justice and Public Safety partner solution.
Mercury joins Cobalt Records Management System (RMS) in Mark43's lineup of premier cloud-based public safety software products. Cobalt is now in use by the Metropolitan Police Department and several other law enforcement agencies in Washington D.C. where it has significantly reduced reporting times for officers. Mercury CAD is another iteration of Mark43's successful model of product development and implementation, hinging on extensive time in the field with public safety agencies nationwide in order to better understand and build effective tools for first responders.
About Mark43
Mark43 is on a mission to bring public safety technology into the 21stcentury. Founded by Scott Crouch, Matthew Polega and Florian Mayr in 2013, Mark43 builds essential cloud-based software tools that make access to reliable and actionable information a reality for first responders. For more information, visit www.mark43.com.

Request more info from Mark43
Thank You!