PRESS RELEASE
Texas Department of Public Safety selects Mission Critical Partners to modernize statewide criminal justice information systems and operations
---
Project will assess current technologies, develop strategic plans, and implement enhancements
STATE COLLEGE, Pa. — Mission Critical Partners (MCP), a leader in providing consulting and managed services to public safety and justice organizations, announced today it was awarded a five-year contract to modernize the criminal justice systems and operations used by the Texas Department of Public Safety (DPS) to support its Crime Records Division (CRD).
The project team consisting of MCP subject-matter experts (SMEs) first will assess the current state of crime-records data and technology systems and then will develop short and long-term strategic plans for enhancing the division's technologies and operations. The SMEs also will support the potential development of requests for proposals for potential technology replacements and upgrades, and the eventual implementation of statewide technology and service enhancements.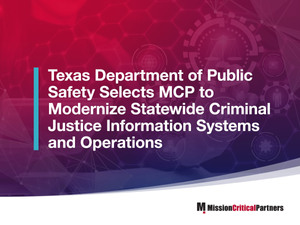 The project will focus on as many as 14 interrelated criminal-justice systems vital to the state's law enforcement and authorized non-criminal justice agencies. It eventually will result in the nation's only Terrorist Offender Registry. Earlier this year, Texas passed a law requiring convicted terrorists — defined as those who have proven to be threats to the public and national safety—to register with the Texas law-enforcement community if they reside in, or plan to move to, the state.
"We are honored to partner with such an innovative organization as Texas DPS as it embarks on its multiyear journey to modernize its criminal-justice information systems," said Darrin Reilly, MCP's president and chief executive officer.
About Mission Critical Partners (MCP)
Mission Critical Partners (MCP) is a leading provider of data-integration, consulting, network, and cybersecurity solutions specializing in transforming mission-critical communications networks into integrated ecosystems that improve outcomes in the public safety, justice, healthcare, transportation, and utility markets. Our comprehensive experience and vendor-agnostic approach helps us develop modernized solutions for our clients to maximize value and create optimal efficiency while mitigating risk. Additional information and career opportunities are available at www.MissionCriticalPartners.com
About Texas Department of Public Safety
The Department of Public Safety of the State of Texas, commonly known as the Texas Department of Public Safety, is a department of the state government of Texas. The DPS is responsible for statewide law enforcement and driver license administration. The Public Safety Commission oversees the DPS. https://www.dps.texas.gov/    

Request more info from Mission Critical Partners
Thank You!