2008 threat season heats up
---
Ed. Note:  This special feature is reprinted in partnership with Stratfor, an influential private intelligence company. Co-author Fred Burton, the former deputy chief of the State Department's counterterrorism division presently serves as vice president for counterterrorism and corporate security at Stratfor, recently released his autobiography: GHOST, Confessions of a Counterterrorism Agent. For a special offer to get a copy of GHOST, and to read additional information about Fred Burton and his role at Stratfor, simply click here.
---
Related articles:
NYPD going to Abu Dhabi
The jihadist threat and grassroots defense
Police lockdown after powder arrives at McCain's office
Police resources diverted from other problems to prevent terrorism
---
By Fred Burton and Scott Stewart
Summer has arrived, bringing with it rumors of attacks against the U.S. homeland. Currently, we are hearing unconfirmed word of plans in place for jihadists to be dispatched from Pakistan to conduct coordinated suicide attacks against soft targets in as many as 10 U.S. cities.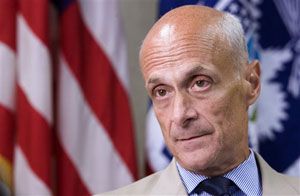 Homeland Security Secretary Michael Chertoff seen here during an interview with The Associated Press in June 2008 in Washington, D.C. (AP Photo/Haraz N. Ghanbari)
This year, the rumors seem to be emerging a little later and with a little less fanfare than last year, when we saw a number of highly publicized warnings, such as that from Homeland Security Secretary Michael Chertoff and a National Intelligence Estimate saying al Qaeda was gaining strength. Last year also brought warnings from a former Israeli counterterrorism official that al Qaeda was planning a simultaneous attack against five to seven American cities, and of a dirty bomb attack against New York.
These warnings were followed by the Sept. 7, 2007, release of a video message from Osama bin Laden, who had been unseen on video since October 2004 or heard on audiotape since July 2006. Some were convinced that his reappearance — and veiled threat — signaled a looming attack against the United States, or a message to supporters to commence attacks.
However, in spite of all these warnings — and bin Laden's reappearance — no attack occurred last summer or autumn on U.S. soil. As we discussed last October, there are a number of reasons why such an attack did not happen.
We are currently working to collect more information regarding this summer's rumors. So far we cannot gauge their credibility, but they pique our interest for several reasons. First is the issue of timing, and second is the ease with which such attacks could be coordinated.
Timing is Everything
It is a busy time in U.S. politics. The Democratic National Convention (DNC) takes place this week in Denver, and the Republican National Convention (RNC) takes place next week in St. Paul, Minn. After these conventions, politics will be on the front page until the November elections. In addition, Americans are returning from summer vacations, with schools and universities resuming classes. The anniversary of the 9/11 attacks is also coming up.
While the al Qaeda core generally conduct operations when they are ready — rather than according to external calendars and anniversaries — their pattern of releasing statements on the 9/11 anniversary demonstrates their awareness of its significance and the painful emotions it evokes in the American psyche.
In 2004, just days before the U.S. presidential election, Osama bin Laden made a rare video appearance. In the video, he said al Qaeda's problem was not with the two candidates, George Bush or John Kerry, but with U.S. policy regarding the Muslim world and the situations in Iraq and Israel. Bin Laden also pointed out that neither Bush nor Kerry could be trusted to keep the United States secure from more attacks. By creating such a message and releasing it at that time, bin Laden was demonstrating his organization's understanding of the U.S. presidential election dynamic.
Furthermore, the al Qaeda core has historically planned or supported substantial operations in advance of elections. In 2004 we saw this with the Madrid train bombings, which took place prior to Spanish elections. Several other plots might also fall into category. In the summer of 2004, for example, we saw a plot to target a number of financial targets in the U.S. thwarted.
Another election-year attempt was the 2006 al Qaeda-tied plot against a series of airline flights originating from London's Heathrow airport. While the plot was hatched in the United Kingdom, the selection of flights bound for Washington, Chicago, San Francisco and New York meant that the attack was actually targeted primarily against the United States. For perspective, we look at Operation Bojinka in the mid-1990s, the predecessor to the 2006 plot. Although planned to be launched from Asia, the plot was clearly an attack against the United States.
In another example, Jose Padilla was arrested in May 2002, a congressional election year, as he attempted to enter the United States. Padilla, according to the interrogation of captured al Qaeda member Khalid Sheikh Mohammed, had been sent to there to conduct attacks.
Attacks certainly occur in non-election years (and plots have been thwarted in off years), but the fact remains that jihadists appear mindful of election cycles in the United States. And al Qaeda is not alone in this thinking. Grassroots al Qaeda sympathizers have also attempted to interfere in election-related events. In August 2004, on the eve of the RNC in New York, authorities arrested a Pakistani man and his Pakistan-born U.S. citizen accomplice who claimed they were planning to attack a subway station in Manhattan two blocks from RNC site. The men were later convicted for the plot, with the main organizer receiving a 30-year sentence.
Speaking of elections, it is also interesting to consider that the last two U.S. presidents were forced to deal with jihadist strikes on American soil shortly after assuming office. Bill Clinton was inaugurated in January 1993, and the World Trade Center was bombed in late February 1993. George W. Bush was inaugurated in January 2001, and the World Trade Center and Pentagon were attacked in September 2001. In all likelihood this is a coincidence, but it is worth watching to see if the trend continues in 2009.
Of course, let's put this in perspective. In the last 15 years — election year or not –- there has rarely been a time when some jihadist somewhere was not planning an attack against the United States. However, the al Qaeda core organization clearly attempted to conduct major attacks in 2002, 2004 and 2006, all of which were election years. These attempts (other than Madrid) were all thwarted. The fact that we haven't seen an attempt during this year's election cycle has us watchful — we sense that there must be plot out there somewhere.
Ease of Attack
Another thing that interests us about recent rumors is the concept behind the alleged plot: the simple and elegant idea of sending 10 independent actors to 10 cities. One factor that has sunk many past jihadist plots against the United States has been poor operational security and poor terrorist tradecraft. These mistakes have allowed U.S. authorities to identify and shut down the militant networks involved.
By using compartmentalized operatives, militants could more easily circumvent counterterrorist efforts. Furthermore, even if one or more of the operatives were detected and arrested by authorities, details of the operation at large would not be compromised. Each operative would only know about his own particular targeting instructions and would be unable to provide other details if captured.
In such a case, al Qaeda would most likely attempt to dispatch 10 "clean skin" operatives (those not obviously associated with the group) who are trained to construct improvised explosive devices using readily available materials and ultimately willing to undertake martyrdom missions. Due to changes in the immigration processes since the 2001 attacks, these operatives will likely be Westerners — U.S., Canadian or European citizens able to travel to the United States without the need to obtain a visa.
Recruiting such operatives could be easier that one might expect. Thousands of potential candidates who currently attend militant madrassas in Pakistan (including somewhere from 500 to 1,000 U.S. citizens) fit this description. In fact, no one really knows how many of these potential jihadist operatives exist at present. The government of Pakistan has not been forthcoming in answering requests from the United States and United Kingdom for lists of their citizens currently attending these institutions. Regardless, the idea of al Qaeda recruiting 10 "clean skins" for such an operation is not beyond the realm of possibility. Consider past recruits such as Mohammad Siddique Khan, the leader of the cell behind the July 7, 2005, London bombing, shoe bomber Richard Reid and Adam Gadahn (aka Azzam al-Amriki), or even the warnings of German Muslims planning to conduct attacks in the West.
Levels of Severity
If this rumored operation is in fact legitimate, it would be the first one conducted using only operatives sent from the core al Qaeda group in Afghanistan or Pakistan since the 9/11 attacks. This is what we refer to as an al Qaeda 2.0 operational model. However, while sending operatives to work solo rather than in a group or with local grassroots jihadists increases operational security, it also reduces operational ability. Quite simply, it is more difficult for an individual to arrange a large attack than it is for a group working together. This means that lone operatives are unlikely to assemble major explosive devices like the truck-borne IED used in the 1993 World Trade Center bombing. Instead we would anticipate attacks similar in scope to grassroots undertakings; suicide bombings such as the July 7, 2005, London bombings or the 2002 armed assault on the El Al Ticket counter in Los Angeles. These theoretical attacks also would likely be conducted against soft targets such as buses, subways or shopping malls, where they can create a high number of casualties, rather than harder targets like the White House or Pentagon, where they would prove ineffective.
The October 2005 incident in Norman, Okla., in which a University of Oklahoma student detonated an IED outside a packed football stadium highlights the ease with which a device can be manufactured from readily available items without detection. But suicide operatives could undertake a number of different types of attacks. Recently we have seen Palestinian suicide operatives embarking on extremely simple plots, such as driving heavy vehicles into crowds.
While the individual attacks themselves would likely be small in magnitude, when combined and spread across the country they could have a far larger impact, similar to past attacks in places such as Madrid, London, Amman in Jordan, the Sinai Peninsula and Bali, Indonesia. Although the botched attacks in London and Glasgow last summer were conducted by the same cell, the planners also clearly sought to use multiple devices in geographically diverse locations. While such attacks would not be a strategic threat to U.S. existence, they would certainly kill people and create a great deal of fear and confusion.
We are not attempting to hype anything here and we do not want to create any kind of panic. These are just rumors, and unconfirmed ones at that. We have not seen any formal announcements from the U.S. government raising the alert level. However, it certainly seems to us to be a prudent time to increase situational awareness and update contingency plans in anticipation of the worst.


Request product info from top Police Surveillance companies
Thank You!