Chief: San Bernardino shooters 'sprayed the room with bullets'
Authorities revealed new details about the massacre in San Bernardino that left 14 people dead
---
By Rong-Gong Lin II
Los Angeles Times
SAN BERNARDINO, Calif. —  Authorities revealed new details Thursday about the mass shooting in San Bernardino that left 14 people dead.
Here is the breakdown about the shooting and the suspects, Syed Rizwan Farook and Tashfeen Malik, presented by San Bernardino Police Chief Jarrod Burguan and other law enforcement officials.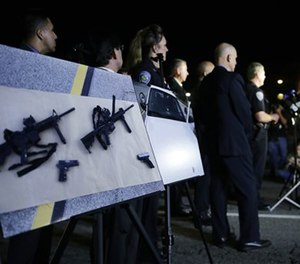 Number of wounded: Police updated the number of wounded to 21. There are 14 dead.
Number of officers who responded: About 300 officers from local, county, state and federal agencies responded to the initial active-shooter component.
Number of rounds fired at Inland Regional Center: The shooters fired between 65 and 75 rounds from their rifles. A pipe bomb — actually three pipe bombs combined into one with a remote-controlled device — also was found. There also were four high-capacity .223 rifle magazines that were dropped by the suspects and left in the building.
"Somehow, it was three pipe bombs that were attached together, somehow attached to this remote-controlled car, and it was designed that the remote-controlled device would somehow trigger or set that device off. We don't know if they attempted to do that and it failed, or what the story is," Burguan said. 
The bomb was found in a bag at the scene. 
What they suspects wore: They had black tactical gear — not ballistic bulletproof vests — that held equipment, magazines and ammunition.
At the shootout with police: Seven police agencies were involved, and 23 officers fired weapons in the final gun battle. "Law enforcement fired approximately 380 rounds at the suspects. Both of them were killed here at the scene. The suspects are believed to have fired about 76 rifle rounds at the officers at the termination of the pursuit," Burguan said. On their bodies and in the vehicle, there were more than 1,400 .223 caliber rounds and over 200 9 mm rounds. 
On the gun battle: "It's my understanding that they [the suspects] opened fire first. Rounds came out of the back of the car from the female that was in the back, firing through the back of the SUV at the police vehicles. And then the male suspect, who was the driver, got out and fired at officers from the street as well," the chief said. 
Their weapons: The suspects had two .223 assault-style rifles and two 9 mm pistols. The two handguns were purchased by the man, while the two rifles were not. All four guns were legally purchased, according to officials. 
The assault rifles were a .223-caliber DPMS Model A15 and a Smith & Wesson M&P15. One of the semiautomatic handguns was manufactured by Llama, and the other by Smith & Wesson.
Injured officers: A San Bernardino police officer sustained a gunshot wound to his left leg; he was seen at a hospital and is expected to be released Thursday. A second deputy sustained cuts to his leg that likely came from broken glass or shrapnel. 
The house in Redlands: There were 12 pipe-bomb-type devices found in the garage to that house. "There were also hundreds of tools, many of which could be used to construct IEDs or pipe bombs. In addition to that, they had other material to have produced some additional bombs as well," Burguan said. "There were another 2,000 9 mm rounds found at that house. Over 2,500 .223 rounds found at that house. … And then there were an additional several hundred .22 long rifle rounds that were found there." 
Were they planning another attack?: "We don't know," the chief said. "Clearly they were equipped, and they could've continued to do another attack. We intercepted them before that happened."
Other suspects: "I don't think we're prepared to talk about other people we might be looking for," Burguan said. "We are confident that the two people that were involved in the shooting here are the two dead suspects that we have at the scene. And we do not have any credible information to indicate there is an immediate threat to anybody in the area or anybody in the region."
Was there a dispute in the room? "We have people in the room that have indicated that the suspect was in the room during the early part of this meeting or party-type event. It was a county public health Christmas holiday-type gathering luncheon," the chief said Thursday. "He was there early on, and he left. We did have some initial information that he left under some kind of duress, or as if he was angry. We also had somebody else say that, you know, he just kind of disappeared, that we don't know where he went from there. So I don't know that we know enough about that yet, but we will confirm that he was there early on." 
It was unclear how much time elapsed between the time Farook left the party and returned. The chief said time ranges he has been given have been as little as 10 minutes and as much as half an hour, but "I don't know if that's true." 
How the suspect was identified: A person in the building who knew Syed Rizwan Farook and identified him by name expressed some concern over his behavior prior to the event and the way that he left. The police chief said officers quickly learned that Farook had rented a vehicle similar to the suspects' vehicle and followed up on addresses. 
Unlocked building: The shooting took place in the southernmost building on the property of the Inland Regional Center. The doors through which the suspects entered were on the east side and went directly into the banquet hall, which is where the shooting took place. The doors were unlocked. 
Regarding a target: "They sprayed the room with bullets, so I don't know that there was any one person that they ultimately targeted. They killed 14 people there," Burguan said. 
On planning: The police chief said there appeared to be a degree of planning. "Nobody just gets upset at a party, goes home and puts together that kind of an elaborate scheme or plan to come back and do that. So there was some planning that went into this."
David Bowdich, assistant director in charge of the FBI office in Los Angeles said: "If you look at the amount of obvious preplanning that went in, the amount of armaments that he had, the weapons and ammunition, there was obviously a mission here. We know that. We do not know why. We don't know if this was the intended target if there was something that triggered him to do this immediately. We just don't know." 
On their travel: Farook returned to the United States after some international travel in July 2014, and brought back Tashfeen Malik, who was not yet his wife, Bowdich said. She was on a K-1 visa under a Pakistani passport, Bowdich said. Bowdich said he didn't know whether international travel had anything to do with the attack. The FBI is still researching where Farook traveled.
Terrorism: "Again, it would be irresponsible and premature of me to call this terrorism. The FBI defines terrorism very specifically. That is the big question for us," Bowdich said. 
Car: The black Ford Expedition was rented three or four days ago and was due to be returned Wednesday. It had Utah plates but was rented locally.
Criminal record? Neither suspect has a criminal record that the chief is aware of.
The Redlands home: Both suspects were listed on the rental agreement, but Burguan said, "I don't know if we can say they were living there or if they were living elsewhere. And what exactly that house was used for." He added, "The house became a focus of the investigation based upon information we had from witnesses that identified him as an employee that was there that they thought was potentially involved, and it was follow up that we had done connected to that person that took us to that house, led us to that vehicle, which resulted in us in the following and in the pursuit and the shooting that happened. Police have also discovered computer evidence, thumb drives and cellphones." 
On San Bernardino: "Everybody knows San Bernardino has been beaten up with the bankruptcy and some of the things that have hit this community. And economically, this community has been hit hard. But this is a pretty resilient community. We will survive this," the chief said. 
Proud: "That was nothing short of heroic," Burguan said of law enforcement chasing down the suspects that led to the gun battle. "I'm extremely proud."
On a potential third suspect : A person was seen running away from the shootout scene. Police determined he was not connected to the shooting, but did have a misdemeanor warrant and was booked on that warrant.
On the event where the shooting took place: Burguan said the event was hosted by the county Department of Public Health, starting out the morning as a training event, and was in the process of transitioning into a holiday Christmas party and luncheon when the shooting started. There were 91 invited guests; about 75 to 80 people were believed to have come to the party. Of the 21 who were injured, 18 were county employees; and of the 14 who died, 12 were county employees. 
Farook came to the same event last year, the chief said. 
On their preparedness: "They came prepared to do what they did, as if they were on a mission," the chief said Wednesday. "They came in with a purpose." 
On how police found the suspects: "We followed up on some tips. That took us to a residence in the city of Redlands. When officers were setting up on that residence to watch it, there was a vehicle that was seen leaving that was suspected of possibly being involved," the chief said Wednesday. 
"There ended up being a pursuit of that vehicle. And eventually that pursuit came back to San Bernardino Avenue, between Mountain View [Avenue] and Richardson [Street], here in the city of San Bernardino, where the suspect vehicle stopped and there was an officer involved shooting," he said. 
What was the time between the time police received the first 911 call reporting a shooting to the time the first police unit arrived on scene?: Four minutes, the chief said Wednesday. The first officer to arrive was Lt. Mike Madden, and another officer arrived almost simultaneously, the chief added Thursday. Madden waited for two minutes until he and a total of three other officers were available to enter the building together.
A few minutes later, officers started evacuating surviving victims. After they were extracted, it took about 15 minutes for them to get to the hospital. 
Copyright 2015 the Los Angeles Times
McClatchy-Tribune News Service

Request product info from top Police Surveillance companies
Thank You!