Spotlight: i2c Technologies, industry-leading video surveillance solutions
i2c Technologies has been on the cutting edge of providing innovative IP video surveillance solutions and software for over 12 years
---
Company Name: i2c Technologies
Headquarters: North Canton, OH
Signature Product: VX400 Covert Video Surveillance System
Website: http://www.i2ctech.com/
1. Where did your company name originate from?
The name i2c is a play on words for "eye to see". When we started the company in 2005 we were one of the first integrators in our state to offer network cameras versus analog cameras and the lower case "i" represents that new technology, much like iPhone.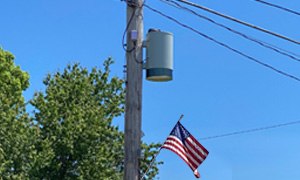 2. What was the inspiration behind starting your company?
It all started with our CEO, Jeff Doak's desire to keep an eye on property that he purchased in Southeastern Ohio in 2003. Jeff was living in Northeast Ohio at the time and was the CIO of a medical equipment service company. Network video cameras were a relatively new technology and Jeff installed several around his property, which he could remotely view and control via the internet from anywhere. He realized that these cameras had limitless applications, especially for government and law enforcement, and his background in IT enabled him to design custom systems, software, and eventually self contained deployable systems.
3. What is your signature product and how does it work?
Our signature deployable product is our VX400 Covert Video Surveillance System, which we first built in 2008 after we received a request, from a police department to design a complete camera system in a covert housing that they could use for drug trafficking surveillance. We designed the housing to look like a power transformer, which easily attaches to a power pole. A high-definition AXIS PTZ camera, a ruggedized server with video management software, and a 4G LTE cellular data modem are all housed inside the unit. The VX400 is designed for one-man deployment and weighs less than 50 pounds. The camera can be controlled remotely and can send real-time alerts to any mobile device. Hundreds of VX400's are in use across the country and we ship them anywhere in the continental U.S.
4. Why do you believe your products are essential to the police community?
With threats like terrorism, drug and human trafficking, and mass shootings the resources of police departments are stretched thin. Our deployable video surveillance units (the VX400 and the VP400) are a cost-effective way for law enforcement to monitor high- crime areas and public events and capture high definition video evidence, when necessary. Because they are designed to be deployable, they can be easily taken down and moved as the need arises, making the VX400 and VP400 valuable tools for law enforcement.
5. What has been the biggest challenge your company has faced?
Definitely the economic downturn of 2008. At that time we were a young company trying to convince businesses and government to invest in new network camera technology and abandon the old analog camera technology that they were used to. Fortunately, we were able to weather the storm, thanks to our fantastic employees, investors, and of course customers.
6. What makes your company unique?
We only use the highest quality AXIS brand cameras for our deployable video surveillance units and we offer a one year warranty on all parts and affordable extended service agreements to keep each unit running like new. While most companies charge an extra fee for a third party video management software, our software is included.
7. What do your customers like best about you and your products?
Our law enforcement customers appreciate the quality of video they are able to capture with our deployable units and the fact that they can easily retrieve and share video on the fly. We designed our own software to be extremely easy to use and it allows users to search through hours of recordings in mere minutes. They also like the fact that we offer U.S. based technical support.
8. What is the most rewarding part of serving the first responder/local government community?
We like being part of the solution and helping the good guys protect our communities. It has been our privilege to work with some of the best law enforcement entities in the country.
9. Do you support any charitable organizations within public safety/community? Tell us more.
In light of recent school violence, we have donated cameras to a local college's police department, to help improve campus security.
10. Is there any fun fact or trivia that you'd like to share with our users about you or your company?
To help one of our Municipality customers with their street- level surveillance cameras (and because our installers were too chicken) our CEO had to work 150 feet in the air to resolve a problem with the city's wireless communication equipment. Later that year, the same city needed him to design a camera system to watch their underground storm sewers. This required Jeff to go down into the sewer to figure out the correct camera placement. Thus, we like to say our CEO goes above and "below" for his customers.
11. What's next for your company? Any upcoming new projects or initiatives?
We are excited about the latest version of our video management software (due at the end of 2018) which will support Mac, iOS, and Android devices.

Request information from i2c Technologies
Thank You!