SHOT Show: Tactical apparel from Magnum, Tac Wear, and Woolrich
---
Shopping for tactical wear is a admittedly less exciting than looking at guns and knives. At SHOT Show 2011, however, there was plenty of tactical wear to catch the eye. In particular, I noticed some items of note from Magnum, Tac Wear, and Woolrich. 
Tac Wear
I was looking for a good undergarment suitable for wearing under a hot vest. I found Tac Wear.
The problem with the cotton T-shirt is the fact that the absorbent nature of cotton has a tendency to keep moisture against the body. I like CoolMax because it has some wicking ability and dries faster.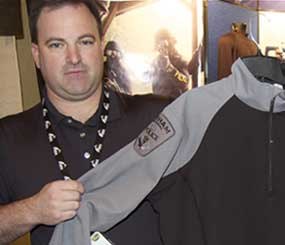 When I stopped at the Tac Wear display, I noticed that someone had attached a CoolMax shirt to a poly-cotton BDU sleeve. It was designed to be worn under body armor and the uniform sleeve is exposed, precluding wearing the whole cotton sweat magnet under the vest.
I noticed that one of the display units on the rack had actual agency patches on it. When I asked Glen Turpin of Tac Wear about it, he told me that the display unit was his own actual agency wear. Glen is an officer in Toronto Canada.
I had to have him model it.
Hybrid uniform items are a good idea. The CoolMax inner shirt allows more freedom of movement. It is stretchy and smooth against the body and doesn't produce the unbearable feeling of drenched cotton. In case anyone was wondering, Tac Wear is a little thicker then ordinary CoolMax workout wear. It helped that the end user was there to tell me about the success of his agencies adoption of this uniform.
Woolrich Elite Discreet Carry Twill Jacket
I stopped by the Woolrich booth after hearing that they have taken a popular model jacket and turned it into the Elite Discreet Carry Twill Jacket. This product looks like a rugged work jacket. It has specially-reinforced and lined pockets, and it is indistinguishable from the non-tactical version, which is called the Dorrington jacket. There is even a hidden accessory where one can put flexible handcuffs. Really, this feature is sort of hard to describe.
Not only does this jacket make concealed carrying easier, the sleeve lining adds to the freedom of movement.
Oh, yeah, and it's warm too.
Magnum Improves the Spider 8.1 Tac Spec HPi Boot
If anyone is familiar with the high-performance outsole of the Spider line of boots, they would know that the rubber is tacky and they are specially reinforced for sling work. Without this special sole tactical boots are done after a few easy descents.
Magnum uses the ion-mask hydrophobic surface enhancement, a water resistant process that is impregnated into the surface of the boot. My personal experience with ion-mask can attest to its superior water resistance. The improvement includes a vented toe box that doesn't sacrifice for foot protection or water resistance. This is a superior athletic inspired tactical boot.
The Spider 8.1 Tac Spec HPi is the kind of tactical boot that is lined with material more comfortable than the pair of socks we put against our body.
OK, I have now talked about clothing that stood out at the SHOT Show. I promise, I will have more about guns and knives in my next installment.