Product Review: Leupold Tactical Binoculars
---
Daytime or night, in an urban setting or working out in the sticks, I always carried a pair of binoculars in my patrol vehicle. Binoculars will allow you to read the placard on that overturned tank truck before you get too close and become contaminated. Binoculars are equally essential when working a surveillance detail, allowing you to stay further away from your target.
Tactical situations really point to the need for good optics, especially for snipers and observers. If you've ever spent a few hours watching a scene through cheap binoculars, you'll never forget the experience — or the headache. Police sniper teams are generally willing to spend a lot for their rifle scopes, and they should. But it's not unusual to see police tactical teams carrying discount-store binoculars. I have a sneaking suspicion that "administrative" officers are willing to shell out hundreds of dollars for rifle scopes, since they can safely assume those co-mounted pieces of inventory are not likely to disappear. But, they might conclude that a pair of binoculars is much more likely to "come up missing," so they buy you a $50 set from Wallyworld.
Actually, you probably need to spend more on your binoculars, percentage-wise, than on a rifle scope. A pair of binoculars has two independent optical systems and any prism misalignment, or even color differentiation between the two sides, can make your eyes go fuzzy in short order.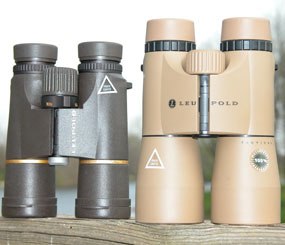 For general patrol use, I have used everything from full-sized to "mini" binoculars. Small binoculars are especially apt to cause eye strain unless they are a high quality unit (read: expensive). I have a set of Leica 8x20mm glasses that aren't much bigger than a pack of cigarettes when folded, but easily outperform the optics of a cheap set of full-size binoculars. And, top notch binoculars are truly a lifetime investment. My expensive pair of Leica 8x20s are about 25 years old, have survived a VERY tough life and are still as good as the day I bought them. Recently, I've been testing two pair of full-size Leupold binoculars that would give top service for any police use, particularly with a sniper/observer team.
The Leupold Golden Ring Switch Power binoculars are switchable between 10x and 17x magnification. For sniper teams working in an urban setting, the 17x setting will allow detailed observation without the need to carry a separate spotting scope. The 10-17x42 Switch Power model is the top of Leupold's line, with a street price around $1,000. The 10-17x switch power model offers a very sharp and bright image, comparable to the best European brands, at a much lower cost, thanks to the current weakness of the Dollar in currency exchange rates. Equivalent binoculars from the top-tier German or Austrian optics firms will currently go for more than $2,000.
The 10-17x Switch Power glasses are 6 inches tall and weigh about 24 ounces. If you'd like a smaller set of binoculars with the dual magnification feature, Leupold also offers a 7-12x32 binocular that is an inch shorter and 2.5 ounces lighter. The Golden Ring models are rubber coated (black or brown), come with an excellent chest harness for carrying the binoculars in the field, are completely waterproof, and carry a lifetime warranty.
The second set of Leupold binoculars I tested are the Tactical - Military 10x50 model. This set of glasses is part of Leupold's "Green Ring" lineup, meaning they are manufactured overseas to Leupold's design and specifications. The feature of the Tactical - Military model that caught my eye is the addition of a rangefinding reticle. I've used other binoculars with rangefinding reticles in the past, with mostly unsatisfactory results.
Some of the European models with a reticle use an arcane measurement system, neither the familiar Minute-of-Angle system or the Mil-Dot reticle system so common now in sniper scopes.
The Leupold Tactical - Military binoculars are available with two different reticles based on the Milradian measuring system, either the common Mil-Dot or Leupold's dedicated TMR (Tactical Milling Reticle). The measuring system of the TMR reticle is identical to the Mil-Dot, but I think its fine lines are easier to use than the larger "dots." The other big advantage to the Leupold binocular reticle is its ability to rotate to line up with any item you want to measure. Binoculars must be adjusted to the width of each person's eyes and a fixed reticle won't ever be truly vertical (or horizontal). With the Leupold Tactical-Military binoculars, you can square up the reticle to match the angle of any item you're measuring, making an accurate calculation much more likely. If your laser rangefinder fails, these tactical binoculars allow you to get an accurate range estimate.
The 10x50 Tactical - Military binoculars are rubber coated in a desert tan color, stand 6.7 inches tall and weigh just under 26 ounces. An identical Tactical - Patrol model is available without a reticle. The larger 50mm objective lenses of this pair of binoculars give excellent brightness and the edge-to-edge sharpness we expect from Leupold. The Tactical glasses nearly equal the optical quality of the Golden Ring model, at a street price of about $550 (about $50 less for the Patrol model without a reticle).
The Leupold Golden Ring Switch Power binoculars combine first-rate optical quality with the ability to switch to a higher magnification setting for more detailed observation. The Tactical - Military model provides very good optics with the added benefit of rangefinding capability in a very affordable package. I've been looking for a new set of full-size binoculars.
I see advantages to both of these Leupold models. The problem is: which to choose?

Request product info from top Tactical Products companies
Thank You!