2 new, innovative ballistic protection products on display at SHOT Show 2017
Every officer should check out the new ballistic protection products introduced by Honeywell and Safariland
---
When you're at SHOT Show the most common question that surfaces while looking at products on the floor is "What's new?" The innovations I found when scoping out ballistic protection definitely stand out.
I had back to back appointments with product representatives while at the show. The first was with Honeywell. The second was with Safariland.
Honeywell is the company that brought us many of the advanced fibers used in manufacturing ballistic protection. Lori Wagner demonstrated a new composite fabric called Centurion. Spectra fiber is its base material. Pound for pound, Spectra is 15 pounds stronger than steel. It's generally used for Spectra Shield, a ballistic resistant material.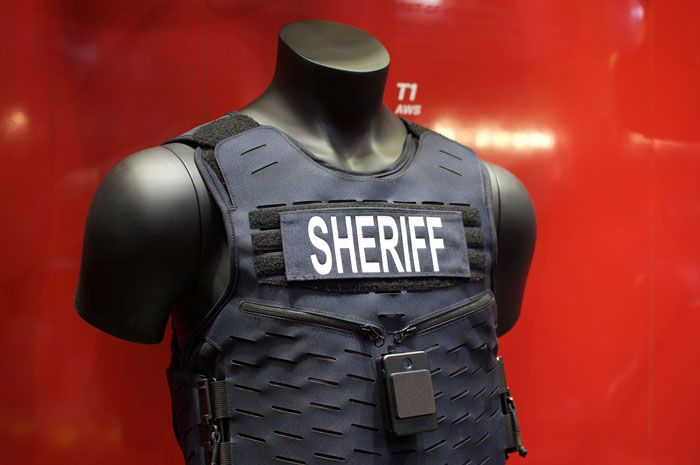 (Photo/PoliceOne)
Centurion fabric is extremely thin, although it has a 500 denier Cordura surface and a thin, somewhat tacky feeling finish on the back. The material itself is flexible like clothing fabric, but it has an 800 pound breaking strength. Because of the Cordura on the top, it can be made into any color. It is laser cut, which creates non-fraying edges.
The material is an extremely durable, lightweight, flexible, thin laminate that is cut with a laser, rather than mechanically. The material itself doesn't stretch, and it has a high tear and puncture resistance. When materials like these are attached together, they do not require finishing on the edges, like folding over before stitching two pieces of material together. Because of this design, it is easy to cut MOLLE patterns into it.
Because MOLLE is cut into the material, it is thinner, lighter and more flexible than sewn on MOLLE.
This is the perfect vest or plate carrier material. It's lighter and thinner. Using MOLLE or adding zippers and features would be very simple. Imagine your internal vest having capabilities of being an external vest that takes pouches and mounts.
The considerations for this particular material are endless. For example, if you are a thigh holster user, why not integrate the webbing that holds the holster to the belt into the pants? The possibility of having a pair of duty pants with an integrated holster is awesome.
Later, I went to see Keith Fahl at Safariland to talk about some of the new innovations in ballistic panels. He was handing me panels and telling me the specs for each panel. Finally, he handed me a Safariland Hardwire front soft armor panel.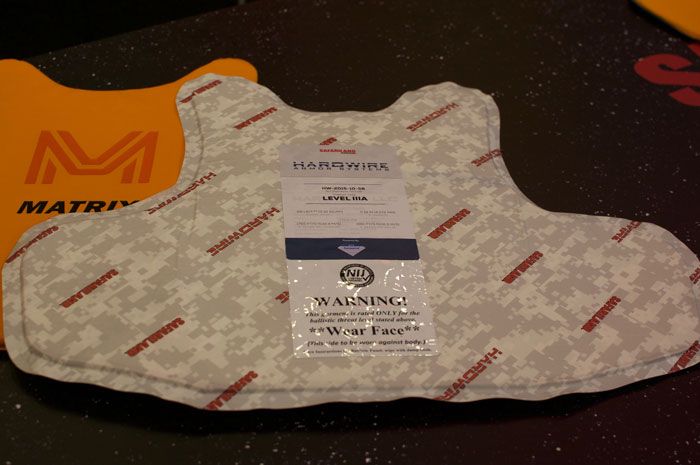 (Photo/PoliceOne)
"That's a Level IIIa," Keith said. "Where?" I asked. "You're holding it." Startled, I dropped it.
The Safariland Hardwire panel weighs .68lbs. It's about half as thick as similar products.
I told Keith that I had just come from Honeywell and they had shown me their vest carrier made of Centurion. He pointed to their Safariland T1 AWS (Advanced Webless System) soft armor carrier on display behind him. It's extremely thin and very configurable.
Where was this stuff when I was on patrol?

Request product info from top Ballistic Shields companies
Thank You!