Spotlight: Pulsar creates the best optics, software and features available on the market
An industry-leading pioneer designing cutting edge products for hunting, law enforcement, personal security and search & rescue operations
---
Company Name: Pulsar
Headquarters: Mansfield, TX
Signature Product: Trail series thermal riflescopes and Helion series thermal monoculars
Website: http://pulsarnv.com/
1. Where did your company name originate from?
A pulsar is a rotating neutron star whose emission is always there but only visible under specific circumstances. You can think of us like that - in complete darkness, we are the light that lets you see, but remain unseen.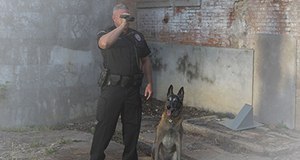 2. What was the inspiration behind starting your company?
Pulsar was started as a symbol of technological advancement and dedication to continuous innovation to make the most advanced night vision systems anywhere. Today, we are a world leader in both thermal imaging and night vision systems.
3. What is your signature product and how does it work?
The Trail series thermal riflescopes and Helion series thermal monoculars are sensitive to thermal radiation, producing a picture on the internal display to show the user things they can't normally perceive, regardless of illumination. Heat vision, predator vision, whatever you want to call it, its true name is thermal imaging and it's a game changer for law enforcement.
4. Why do you believe your products are essential to the police community?
For police, I don't have to explain the value of spotting an unknown before they spot you, or the value of locating an item thrown from a vehicle or otherwise hidden. Officers also appreciate the ability to record observed activity right on the unit for use as evidence. Fire and EMS find our thermal imagers extremely helpful for search and rescue, as well as identification of hot spots or potential dangers in a controlled structure fire.
5. What makes your company unique?
Pulsar is dedicated to image and quality above all; we offer the most intuitive and easy-to-use firmware and unmatched personal service for every single customer. Since our team is made up of hunters, law enforcement officers, soldiers and veterans, we offer a real understanding of our customers and unparalleled support.
6. What do your customers like best about you and your products?
It's simply that we're offering the best product. Full-featured, high quality thermal imagers with on-board recording and integrated battery packs are hard to come by. We also offer service, support and professionalism that you won't find anywhere else.
7. What is the most rewarding part of serving the first responder/local government community?
As a company staffed with a high number of first responders, veterans and service-oriented individuals, we could not be more proud to stand by our brothers and sisters in uniform. We love to see our products increase efficiency, safety and make the streets safer for those holding the line between us and disaster.
8. Do you support any charitable organizations within public safety/community? Tell us more.
We engage with law enforcement and first responders in our community through programs directed at the officers themselves, K9 unit rehabilitation and adoption as well as sponsorship of department banquets and activities.
9. What's next for your company? Any upcoming new projects or initiatives?
We're always listening to our customers, getting out there and testing every unit, looking for more ways to improve. We've got some ideas that we can't wait to show you. Stay tuned!

Request information from Pulsar
Thank You!