PRESS RELEASE
Pulsar is ready for SHOT Show 2019
---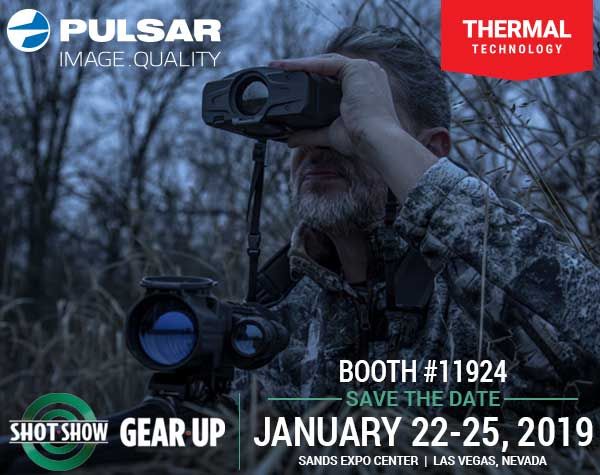 Mansfield, TEXAS — Stop by Pulsar's SHOT Show booth #11924 to learn about their top-of-the-line products! SHOT Show 2019 is scheduled for January 22 – 25 at the Sands Expo Center in Las Vegas, Nevada.
Check out the latest Pulsar product releases including the Trail LRF Thermal Riflescopes, Accolade Thermal Binoculars and learn about new products for 2019. Earn some exclusive swag like hats and tactical pens through the recoil simulated air gun challenge.
New for 2019, the Pulsar Thermion riflescope brings true superiority to the thermal game. Thermions will feature a true HD AMOLED display to allow the user to see the night world in pristine clarity with a detection range of up to 1800 meters. Show your peers your best moments with onboard recording with up to 16GB of storage. Thermions are also compatible with the Stream Vision App allowing you to transfer all your content into digital memory.
Trail LRF
Trail LRF units deliver vivid thermal imaging by taking the same thermal technology found in Pulsar Trail thermal riflescopes and adds a useful integrated laser rangefinder. Pulsar Trail LRFs feature a detection range between 875 and 2000 yards and are compatible with the Stream Vision App allowing you to stream live video through the Trail's integrated WiFi. Pulsar offers five LRF models: XQ28F LRF, XQ38 LRF, XQ50 LRF, XP38 LRF and XP50 LRF.
Accolade 
Designed for a variety of applications, the Accolade Thermal Binoculars offer a dual eyepiece configuration for comfort and reduced eye fatigue. Accolades offer a 384x288 (XQ models) or 640x480 (XP models) sensor with 50hz refresh rate and feature a long detection range between 1350 and 1800 meters. XQ and XP models are also available with an integrated laser rangefinder (LRF). Accolades will satisfy the needs of beginners and professionals who give priority to supreme quality and ultimate performance.
About Shot Show
SHOT Show is the largest trade show and exhibit for shooting sports, hunting and outdoor accessories. This is your best opportunity to explore manufacturers product lines in addition to their latest product from over 2,000 exhibitors. Talk with suppliers and customers to expand your business and knowledge to improve your sales.
About Pulsar
Every Pulsar device is designed, manufactured and tested to ensure demanding professionals receive the most reliable, most advanced thermal and digital night vision performance the industry has to offer. The result of Pulsar's commitment to industry-leading excellence is consistent world-class quality, precision engineering, seamless device operation and cutting-edge proprietary software. Pulsar produces an array of advanced optical devices designed for law enforcement, security, home defense and hunting applications, including thermal imaging and digital night vision monoculars and riflescopes, night vision binoculars and goggles, rangefinders, IR flashlights and related accessories. To learn more about Pulsar, visit www.pulsarnv.com. For media requests related to Pulsar, please email mediarelations@pulsarnv.com or call 817-225-0310.

Request more info from Pulsar
Thank You!