Trijicon's RMR HD is a top-tier optic ready to exceed all expectations
This innovative open emitter pistol-mounted red dot optic is specifically designed to meet the needs of both law enforcement and the military
---
By Jerrod Fraley
Imagine getting all the best features of both the Trijicon RMR and the Trijicon SRO in one optic. Well, you don't have to imagine any longer because it's now a reality.
The new Trijicon RMR HD not only offers everything we love about the original RMR combined with all the innovations that came with the SRO, but it also has even more amazing features.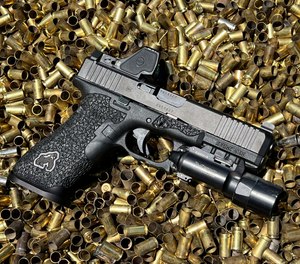 The Trijicon RMR HD is an innovative open emitter pistol-mounted red dot optic specifically designed to meet the needs of both law enforcement and the military. Immediately when you look at this optic, it is abundantly clear how much thought went into designing it and that it was built for duty use. I was lucky enough to test and evaluate a Trijicon RMR HD, and it did not disappoint.
Features of the Trijicon RMR HD
The first thing you notice about this optic is its appearance. The housing is built from 7075 T-6 forged aluminum and its shape pays homage to the original patented RMR design. This material and patented design make this optic incredibly rugged and durable against all forms of impact.
You'll also notice this optic resembles the Trijicon SRO with its larger window, clear glass, crisp dot and top-loading battery compartment. The RMR HD utilizes the same footprint as the original RMR making it easy to mount on currently milled slides or optic-ready versions via a third-party mounting plate.
The large window size of this optic is parallax free and allows for fast acquisition of the dot. Trijicon's advanced lens technology gives the user crystal clear visibility through the .92 x .69 inch (23 x 17 mm) tempered glass window. I found it to be extraordinarily easy to consistently and reliably find the dot while remaining target focused with this optic because of its incredible window size and lens clarity.
The RMR HD is offered with the ability to choose between a standard center dot only or a large segmented circle with a center dot (reticle). The optic also comes in "01" and "02" models. The RMR HD 01 is equipped with the option of either a 1.0 MOA center dot only or the larger 55 MOA segmented circle along with the 1.0 MOA center dot. The RMR HD 02 is equipped with the option of either a 3.25 center dot only or the larger 55 MOA segmented circle along with the 3.25 MOA center dot. Both versions are equipped with a top-loading battery compartment making it easy to change batteries without the need to remove the optic and re-confirm zero.
The control buttons along the side of the housing have been designed to be very large, tactile and audible to provide more positive feedback to the user whether operating with or without duty gloves on. These improved buttons allow for easily navigating between eleven brightness settings, multiple manual vs auto modes for any lighting condition and three night vision settings. The new night vision settings can be used in conjunction with any generation of night vision systems.
Another major innovation made by Trijicon for this optic is the company's Forward-Facing Light Sensor. This new light sensor enables the automatic brightness mode to read the lighting conditions at the target, rather than just at the user's location. When utilizing this setting, the LED automatically adjusts its brightness level as it responds to the light at target, providing optimal sighting schemes and preventing "reticle washout" or "reticle bloom." This can be an incredibly useful option when utilizing a weapon-mounted light for the identification of a threat and deciding to engage with reliable accuracy.
For those concerned about holster fitment, don't be. I had this optic mounted on my Gen5 G17 and it fit flawlessly into my Safariland 6360 triple retention duty holster. Trijicon did an excellent job designing this optic to be compatible with many currently available duty holsters. As mentioned above, this optic utilizes the original RMR footprint but does extend as far forward as the SRO, so holsters that are SRO-compatible should work great, and many RMR-compatible holsters will also likely fit.
Conclusion
I was thoroughly impressed with the Trijicon RMR HD in every aspect of its design and function. By combining all of the already great features of both the original RMR and the SRO, then adding more innovations and improvements, Trijicon has once again developed another top-tier optic ready to exceed all expectations. So, if you're in the market for an optic with plenty of feature options and ultra-reliability, definitely check out the Trijicon RMR HD.
---
About the author
Jerrod Fraley is an active-duty patrol officer in Ohio. His assignments have included patrol, detective, FTO, regional SWAT team member and training coordinator, as well as serving as a member of his department's training staff. In addition to his primary duties, he is also a member of the (Ohio Tactical Officers Association) Red Team Instructor Cadre, where he teaches basic and advanced SWAT and firearms courses across the state.

Request information from Trijicon
Thank You!