Protesters march in St. Louis suburb over fatal OIS
The protest marks a sixth day of demonstrations in response to judge's decision finding a former officer Jason Stockley not guilty of first degree murder
---
St. Louis Post-Dispatch
ST. LOUIS — Chanting "No justice, no profits" and "Shut it down," a crowd of a few hundred protesters blocked Brentwood Boulevard next to the Galleria mall late Wednesday afternoon in the latest action following last week's acquittal of a white St. Louis police officer in the shooting death of a black suspect.
The protest began forming about 5:30 p.m. The crowd, some carrying "Black Lives Matter" signs, and blocked the intersection and Brentwood Boulevard and Galleria Parkway.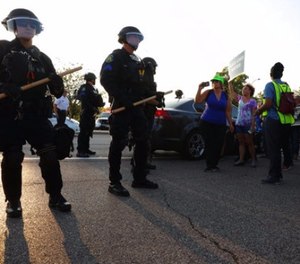 The protest prompted the early closure of the Galleria, one of the St. Louis region's largest shopping malls.
The protesters were met with a heavy police presence. Officers and patrol cars formed a roadblock between the protesters and Highway 40 (Interstate 64). A busload of officers with shields and masks arrived on the scene just after 6 p.m.
At about 6:30 p.m., St. Louis County police texted media outlets that demonstrators were being asked to leave the roadway, as officials shut down Brentwood near the mall. Protesters appeared to be leaving the scene shortly before 7 p.m. Police later reported there were no arrests.
The protest marks a sixth day of demonstrations and other events in response to judge's decision finding a former St. Louis police officer Jason Stockley, who is white, not guilty of first degree murder in the shooting of drug suspect Anthony Lamar Smith, who was black, after a car chase in 2011. That decision was issued Friday.
Some protesters Wednesday chanted "For Anthony Smith and Michael Brown, shut it down, shut it down" as they shut down the intersection. Brown, 18, was shot and killed by a police officer in Ferguson in 2014, sparking violent protests and a national debate about race relations and police tactics.
Among the people standing near a line of police on Brentwood Boulevard shortly after officers had blocked access to the street was a north St. Louis County man Thomas Bradley and his 6-year-old stepson.
Bradley said he brought the little boy with him to see what was happening.
"I want him to be aware of what happened and aware of the problems out here before he gets older," he said.
The child held a sign with scribbled writing, "I want peace, nice police and toys."
Dana Emmennegger said she gave her children, ages 8 and 4, a choice to come to the protest.
"It's one thing to talk about white privilege and take about inequalities and what we're fighting for, but it's another thing to go out and be active," she said.
Emmennegger is one of the founding families of St. Louis' 'We Stories.'
———
©2017 the St. Louis Post-Dispatch
McClatchy-Tribune News Service

Request product info from top Riot Gear companies
Thank You!