How to take the guesswork out of license plate identification
Optical character recognition technology and artificial intelligence lead to more accurate license plate readings
---
Sponsored by Jenoptik
By Lexi Wessling for Police1 BrandFocus
Car travel doesn't look the way it used to anymore. Gone are the days of 55-mile per hour highway speed limits and engines that strain to exceed 80. Two-lane highways, once the standard, are increasingly being transformed into sprawling, 16-plus-lane, "Mad Max"-style drags. And with different designs and templates across multiple states and provinces, license plates are no longer the simple tags they used to be.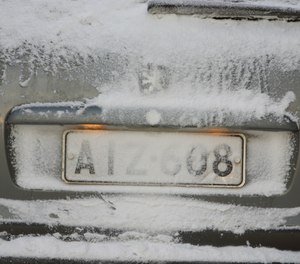 While motorists might rejoice at expanded roadways, faster cars and customizable plates, all this can add up to a major problem for police.
"Sometimes it can be next to impossible trying to catch a license plate," one Dallas-area police officer said. "People speed and swerve and you're trying to get their plate while you're driving and looking at the computer."
License plate recognition (LPR) technology evolved as a fix-it, and LPR-enabled cameras in duty vehicles and at intersections have been a law enforcement mainstay for decades. But basic LPR technology has been far from a perfect solution. It can't read plates with missing or obscured digits and keeping up with new plate designs and templates across state and provinces is a struggle.
"You've gotta hope the plate is clean and in good shape," the officer said. "With some LPR, if it's some out-of-state plate, if the system doesn't recognize the template or can't make out every number and letter, you're out of luck."
A BETTER SOLUTION
These days, law enforcement can't afford to rely on luck. Optical technologies company Jenoptik uses artificial intelligence-enhanced ALPR cameras and real-time analysis software to take guesswork out of the equation and arm officers with the most accurate license plate read possible – even if the plate is dirty, out-of-state, obscured or missing digits.
Jenoptik was first on the scene in 1955 when it began equipping police vehicles with cameras, and spearheaded the move to ALPR technology in 1979. Today, Jenoptik provides public safety solutions in more than 80 countries, and regularly works with aerospace agencies like NASA (most recently for specially designed camera lens assemblies for the Mars 2020 Perseverance rover).
HOW IT WORKS
Capable of scanning plates across multiple lanes even in high-speed traffic, Jenoptik's ALPR cameras can be installed in duty vehicles or as stationary fixtures on poles. Jenoptik's all-in-one system uses optical recognition technology (OCR) to extract the numbers and letters from the captured image.
Other LPR systems stop at OCR. But Jenoptik's AI or "deep learning engine" makes its ALPR even more powerful.
AI FILLS IN THE BLANKS
The deep learning engine enables the system discern the make, model and color of cars even in in low light and poor weather, distinguish individual characters on license plates, learn new plates as they appear and expand its database to include updated and unfamiliar designs. The deep learning engine is constantly adding new data from each plate it reads, which keeps the reading algorithm accurate and up to date, leading to a higher license plate read rate.
Since the AI is always learning, the software can identify a scratched or obscured plate by comparing and contrasting between different numbers and letters until it makes the correct match. For example, the deep learning software knows what a California plate looks like. If it sees a number four on the plate with the bottom half scratched off, the software will consult its database and be able to distinguish that, even though it looks similar to the top of the letter H, or perhaps a K, it is indeed a four.
REAL-TIME ANALYSIS
The data Jenoptik ALPR captures is then evaluated in real time with TraffiData analysis software, which compares the plate number to local and national hotlists and alerts the officer within a few seconds if there is a match.
TraffiData also makes it easier to identify patterns and potential threats. Filters are customizable and can reconstruct routes, identify links to other vehicles, and more. Data from multiple cameras can also feed into an "Intercept Report," which makes high-confidence predictions regarding the exact location, day of the week and time that a particular vehicle will most likely be there, increasing the chance of a safe and successful arrest.
REAL-WORLD RESULTS
As Jenoptik continues expanding in the U.S., there are still many American LEOs have not yet had the chance to experience its ALPR for themselves. Jenoptik is growing in the US and are an established solutions provider that services agencies of all sizes from small towns of 2,000 people to large metropolitan areas.
In Europe, Jenoptik is well established as an industry leader with a proven track record.
Merseyside Police (metro county that includes Liverpool), based in northwest England, serves roughly 1.5 million residents from five different command units. To help accommodate their growing population and goal to increase civil security, Jenoptik built, installed and configured a network of 170 high-resolution VECTOR cameras. With the data from these cameras, Merseyside Police have been better equipped to analyze traffic and crime patterns, devise better crime prevention strategies and analyze license plate information on a much larger scale.
In Belgium, Antwerp is Europe's second-largest port. Registering vehicles arriving from other countries or transporting freight is vital to security. To record the license plates of incoming traffic, Jenoptik built and installed 54 VECTOR ALPR cameras in the port, with 70 in the greater Antwerp area. High-resolution cameras with integrated infrared capabilities ensure the capture of high-quality images even on dark roads, and TraffiData software allows easy identification of vehicles arriving or departing from the port. Jenoptik's ALPR allows officials to maintain increased control over port traffic and security.
Agencies also rely on Jenoptik for increased security at national borders. Jenoptik's ALPR and TraffiData capabilities help identify persons and vehicles of interest, create convoy reports, analyze movement profiles, and compare crossing vehicles against a variety of hotlists.
THE FUTURE OF POLICING
Car travel isn't the same as it was even a few decades ago -- and as transportation has evolved, so has the technology available to monitor and police it. LPR technology is no longer restricted to manual databases, subject to weather and light conditions or dependent on pristine plates. Jenoptik's AI-based ALPR and real-time analysis software may not be mainstays of U.S. policing – yet – but the concepts are a source of much-needed optimism.
"We all know, this job is hard," the Dallas-area officer said. "There's not a lot of things coming along all the time to make it easier or safer. So when something does, like this, it helps. It tells you, 'Hey, better times might be coming.'"

Request information from JENOPTIK
Thank You!