Blauer Tactical Systems Offers State-of-the-art HIGH GEAR™ Impact Reduction suit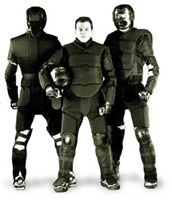 The Blauer Tactical Systems HIGH GEAR™ Impact Reduction suit is state-of-the-art, force-on-force scenario equipment designed to help create the most realistic training experience. The suit now comes with an anti-fog visor, which reduces fogging during high intensity training. Custom athletic design ensures snug fit for maximum range of motion and protection.
The complete suit contains 8 components. HIGH GEAR is perfect for all aspects of combatives, like prisoner handling drills & CQB to more conventional training like MMA, grappling and the striking arts. For more information visit www.tonyblauer.com or email highgear@blauertactical.com.