PRESS RELEASE
Visit ISI at TacOps conference booth 54-56
---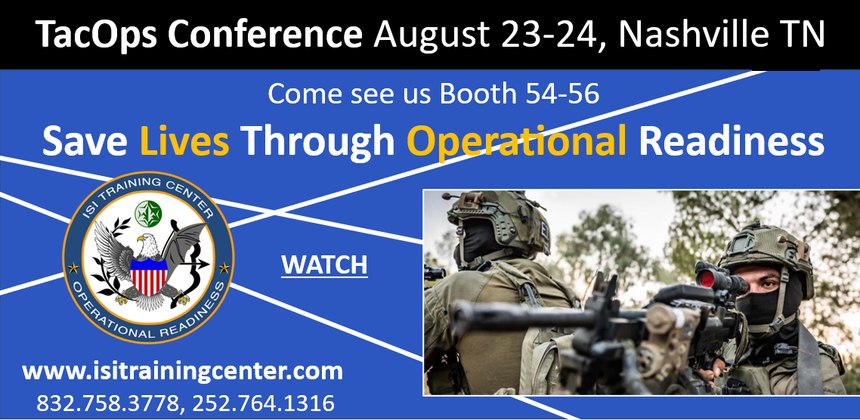 Why train with us?
In the United States, most institutional training is designed with a "one-size-fits-all" mentality, which can be woefully inadequate when a targeted violence or active shooter event unfolds. We break that mold and fill the training gap. Tailored tactical training helps officers better understand the mindset and tactics of domestic terrorists and active shooters and prepares them to stop violence, minimize casualties, and control threat situations.  We have successfully trained thousands of police officers and SWAT teams. Our unique training incorporates validated law enforcement and military counterterrorism response tactics and procedures that we can tailor to a variety of operating environments (urban, bus, train, crowds). We also customize our modules based on current officer skill and experience level, unit designation (Patrol, Tactical First Responder, SWAT), operating conditions (day shift, night shift), and legal parameters.  Our curriculum is not theoretical but is instead based on real-life scenarios taken from ever-evolving strategies refined by US Tier 1 Special Operations units and US Allies overseas. We constantly refresh our tactics, validate our curriculum, and offer the most effective and relevant training available anywhere.                                                                                                               
Your Greatest Resources Are Our Greatest Assets. Our People.
Tactical knowledge, expertise, and skills are all perishable. That's why our leadership and instructor cadre, who average between 25-35 years' operational and training experience each, still work hard to maintain core knowledge, shooting skills, and tactical acumen. Not every operator makes a good trainer, and not every trainer has the operational experience that matters most. We make sure our people have both. Your people deserve nothing less.
How do we do it?
ISI is an American-owned company based in Texas. Since 1999 we've served our nation with advanced tactical training and security services based on American and Israeli combat experience and lessons learned on the battlefield. Everything we teach is proven combat-effective in some of the most hostile environments in the world. Our curriculum is created not by Ph.D.'s with zero operational experience, but through the wisdom and insight of combat operatives with special skills developed and refined in the field. In other words, our Subject Matter Expertise goes far deeper than classroom research or academic theory. We use real-world situations to design training modules relevant to the threat conditions in our daily lives.  We maintain an elite cadre of trainers and experts able to tailor the right training program or solve real security challenges. We deliver unique solutions for unique problems.