Targamite Enters Into an Endorsement Deal with Team Miculek
---
Fort Wayne, IN – Targamite LLC is proud to announce that it has entered into an endorsement agreement with Team Miculek — Jerry, Kay, and Lena Miculek – in connection with the company's new and revolutionary target system, called the Targabot.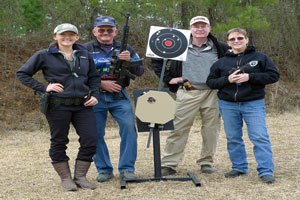 The Targabot is the world's first portable, computer-controlled, robotic target platform. Designed for any shooter who needs or desires to become a confident and thereby competent situational firearms user, the Targabot offers a new dimension of challenge and training engagement.  It is not intended for the shooter who is just good at hitting static targets, but someone whose goal is to become more comfortable encountering the unexpected out in the real world.  That's the purpose of the Targabot—to build muscle memory in one's shooting skills to apply when things begin to move unpredictably out there.
In the exciting arena of competitive shooting, where mind, eye, and hand coordination are at their ultimate refinement, no one epitomizes this demand for excellence better than Team Miculek.
Gary Kaufman, Founder & CEO of Targamite LLC, recently visited Team Miculek at their home/range in Princeton, Louisiana, where, after a day of shooting at multiple Targabots, they entered into a worldwide endorsement arrangement in connection with the new platform.
On this special occasion, Jerry said of the Targabot: 
"This is the first target system that develops rapid target acquisition skills, which have become a primary focus in the tactical training context."
"Targamite obviously did its homework. The Targabot is quality. It shows in the product. You can see that instantly. The materials are first rate, and when you pull off the Targabot's cover, its inner works are as refined as its exterior. Its' very well thought out. I like everything about it!"
In addition to endorsing the Targabot worldwide, Team Miculek plans to incorporate Targabots into their training courses and camps offered to the military, law enforcement and private individuals interested in developing their self-defensive capabilities with firearms.
About TARGAMITE LLC. 
Targamite LLC is a robotics company producing advanced tactical training platforms, including portable, computer-controlled target systems, with both predictable and unpredictable behavioral characteristics, for the armed forces, law enforcement, tactical training, and elite shooter communities worldwide.
ABOUT TEAM MICULEK:
JERRY MICULEK. Jerry Miculek is considered one of the greatest shooters to have ever lived.  He is renowned for his world records in shooting, his widely-subscribed YouTube channel, his many television appearances, and his numerous wins in over 80 national and world titles in competitive shooting. Although best known for his amazing feats of revolver speed shooting, Jerry is also one of the top Multi-Gun competitors in the world, demonstrating equal prowess with pistols, rifles, and shotguns. Given his extraordinary expertise, he represents premiere industry brands, including Smith & Wesson, Mossberg, Hornady, and Vortex Optics, throughout the world. His varied and remarkable shooting skills have been highlighted on numerous television programs, including the Outdoor Channel's "Shooting USA"; History Channel's "Top Shots," "Sharpshooters," and "Extreme Marksman"; Discovery Channel's "Sons of Guns"; and Sportsman Channel's "Hot Shots." 
KAY MICULEK. The same extraordinary accolades apply to Kay Miculek, Jerry's wife, who is a nine-time USPSA National Women's Open Champion, a two-time IPSC World Champion, and a fifteen-time USPSA National Women's Multi-Gun Champion.  She is also the founder of "Babes with Bullets," a training camp for women shooters of all levels, now in its tenth anniversary year. 
LENA MICULEK.  Lena Miculek, daughter of Jerry and Kay, expands the exceptional Miculek legacy, having won her very first international title in 2012 at the World Shotgun "Action" Match held in Hungary.  At this year's Shot Show in Las Vegas, Lena was crowned champion of the 2014 3-Gun Nation Shoot-Off Rumble on the Range, sponsored by Samson Manufacturing.
For more information on the Targabot, please visit:   http://targamite.com/home.html
For more information on Team Miculek, please visit:  http://www.miculek.com

Request more info from TARGAMITE - World's Most Advanced Robotic TARGETS
Thank You!